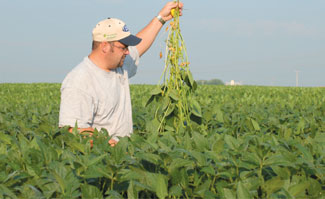 Final totals will depend on the availability of late-season moisture in the Midwest
The first survey-based estimate of this year's soybean crop shows record production potential. In August's World Agricultural Supply & Demand Estimates report, USDA pegged the crop at a hefty 3.816 billion bushels. A historically big crop has been a forgone conclusion since June, when USDA reported producers planted a record 84.058 million acres to soybeans. Since traders assume big crops get bigger, they anticipate the supply side of USDA's balance sheet will swell even more before the end of the 2014/15 marketing year. 

That depends on how the crop finishes. Mother Nature will determine how much or little late-season moisture soybeans get and how long the growing season lasts. Even if the crop finishes poorly and yields fall short of USDA's estimated 45.4 bu. per acre, this year's crop will break records with the surge in planted acreage.

The market's attention will soon shift to demand. Carryover for the new-crop marketing year is set to grow to 430 million bushels, more than three times estimated old-crop ending stocks. Looking beyond the 2014/15 marketing year, the market will continue to work to find a home for excess supplies. 

Lower prices encourage more usage, and that process has begun. November soybean futures declined about 20% in anticipation of the record crop. With a record crop virtually assured, the risk of more price pressure remains. The market must wait to see how domestic and global end-users respond to the sharp price drop. 

A lofty increase in soybean usage is plugged into USDA's new-crop balance sheet. Soybean usage in the 2014/15 marketing year is projected to be 3.541 billion bushels, a record. Record usage makes sense given supply levels, but history suggests there's room for demand growth.  

Soybean usage estimates from USDA have risen in three of the past five years from initial May projection to final estimate. Usage increases occurred under much higher prices. The exceptions happened in marketing years 2011/12 and 2012/13 as prices built to an all-time high in summer 2012. The sharp price rise undoubtedly influenced soybean usage. 

Prices already are sharply lower this year, and China is leading the world's countries whose appetites for oilseeds are building. It's easy to construct a scenario in which demand builds through the marketing year to cut into projected carryover. The problem the soybean market faces is that even if demand expands 100 million bushels, or even 200 million bushels, carryover will still rise sharply in 2014/15. Soybean usage could build through the marketing year in response to lower prices, and it still wouldn't make enough of a dent in supplies to alter the fundamental outlook in the year ahead. 

Building the demand base remains important. The more excess soybeans the market can chew through in 2014/15, the quicker carryover will get back to what the market considers comfortable. The sooner that happens, the faster soybean futures can start price recovery. 

Corn Ending Stocks To Rise. Record-large corn production also is forecast this year. The estimated year-over-year supply increase is not as dramatic as with soybeans, but USDA still projects corn ending stocks to swell to more than 1.8 billion bushels at the end of the 2014/15 marketing year. The market has had ending stocks of 1.1 billion bushels or fewer since 2010/11, so corn supplies in the year ahead are comfortable. 

The corn market reacted to the projected increase in supplies with sharply lower prices, spurring increased corn usage. The process of rebuilding corn demand with lower prices started early in marketing year 2013/14. 

Surprisingly, USDA doesn't have year-over-year growth in corn usage plugged into its 2014/15 balance sheet, even though its forecast calls for the average on-farm cash corn price to drop 55 cents from the current marketing year. Lower prices and a recharged appetite for U.S. corn suggest there's room for demand growth. The biggest challenges for U.S. corn producers in the year ahead will be to expand corn-for-ethanol usage and to compete with increased exports of greater feed wheat supplies out of Europe and the Black Sea region.

Projections for soybeans in the new-crop marketing year call for a carryover of 430 million bushels, USDA says. That figure is more than three times estimated old-crop ending stocks. Going forward, the market will seek a home for excess supplies. 

Ending stocks for corn will swell to more than 1.8 billion bushels at the end of the 2014/15 marketing year, USDA projects.