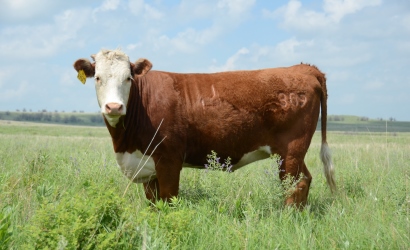 Kansas Department of Agriculture (KDA) is proud to partner with Kansas State Research and Extension to sponsor the first Sunflower Supreme Replacement Heifer sale.  The event grew out of a discussion during the Governor's agriculture tour of southeast Kansas and is designed to help cattlemen better market proven genetics as well as help cow-calf operations make performance improvements in their herds.
The sale, hosted at the Parsons Livestock Market in Parsons, Kansas, on November 14 at 6 p.m., will feature heifers with a known, transparent development protocol.
"We are honored to be a part of this program," Lynne Hinrichsen, director of agribusiness development for KDA said.  "This is a good opportunity to grow and improve our Kansas beef herd."
The Sunflower Supreme Replacement Heifer program provides bred replacement heifers that have been minimally managed the same from a health, breeding and sire selection standpoint. It was started in 2013. In the first year, 33 cattle operations signed up with over 800 heifers being bred in 2014, within the guidelines outlined by the program. 
Details of the guidelines, based on best management practices and designed to be implemented on any cattle operation, can be found at www.sunflowersupreme.org.
Once heifers have met all program requirements, they are tagged with an official Sunflower Supreme eartag, which indicates that the heifers have met the guidelines in which the sale sponsors believe will help with longevity and generate consistent revenue.
The sale will include more than 250 bred heifers with quality F1 and straight-bred females including Angus, Balancer, Black Hereford, Charolais, Hereford, Gelbvieh, LimFlex, Salers and Simmental breeds
For more information about the sale and/or to be placed on a mailing list for the sale catalog, contact Jaymelynn Farney at 620-421-4826, ext. 17 or Lynne Hinrichsen 785-564-6757 or email [email protected]. You can also view  the catalog by going to the website www.sunflowersupreme.org .