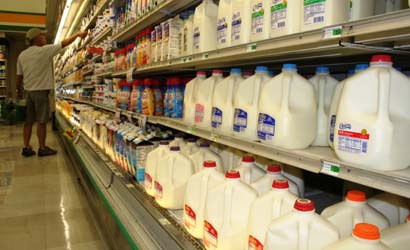 It's a recurring theme: Fluid milk sales in the United States continue to decline, month after endless month, year after blessed year. Type in "fluid milk sales" into dairytoday.com's search engine, and no fewer than 125 articles pop up.
Very few, if any, report good news. In fact, you have to go all the way back to 2008 to see positive sales gains.
Help, finally, is on the way. Two years ago, Dairy Management Inc. (DMI) started working on a comprehensive plan to rejuvenate milk sales. Tom Gallagher, DMI CEO, recognized that tweaking marketing messages hadn't gotten the job done in the past—and wasn't likely to improve things much going forward.
So Gallagher challenged the industry—processors, manufacturers, retailers—to re-think the entire fluid milk category. He wanted the industry to re-consider products, packaging, labeling and marketing to turn sales around. He also believed that partnerships with category leading players could start to turn things around.
DMI's partnership with Domino's Pizza in cheese is an excellent model to follow. There, DMI partnered with the pizza retailer to come up with new pizza offerings.
Domino's increased the amount of cheese on its cheese-only pizzas by 50%, and increased the amount of cheese on newly developed specialty pizzas by 40%. According to estimates done by Texas A&M University, every dollar spent by DMI and leveraged by Domino's increased sales by six pizzas. That, in turn, meant one billion pounds more milk were sold as a result. And that increased milk checks by $177 million per month.
Later this month, at DMI's annual meeting in Grapevine, Tex., checkoff officials will announce eight new partnerships to boost fluid milk sales. "Not all of the partnerships are with dairy companies," says Alan Reed, executive vice president of strategy, insights and planning. "But all of these new partners see opportunity in the fluid category."
These partnerships will bring real money to the table--as in more than $500 million over the next three to four years, says Reed. These partnerships will be in the form of capital, plant operations and infrastructure, human resources and marketing.
They have real potential. DMI's on-going partnership with McDonald's has resulted in 27 new dairy products offered by the fast-food giant. And milk jugs are now the default beverage in McDonald's kids meals, meaning customers automatically receive milk with the meal unless something else is requested. This effort boosted milk sales 1.7 billion pounds between 2009 and 2011. It is hoped this number will double between 2012 and 2014.
DMI's partnership with Quaker Oats, which promotes milk rather than water on oatmeal, has boosted milk sales in Safeway and Kroger stores 2 – 6%, says Reed.
Keep in mind that fluid milk at retail is still a $20 billion industry. "White gallons will still be dominant in the dairy case," says Paul Rovey, an Arizona dairy producer and DMI chair. "But white gallon sales are not growing."
So it's imperative the industry looks to new products, new packaging, new ways to reach consumers. The $500 million in partnerships DMI will announce later this month is an exciting launch to the effort.