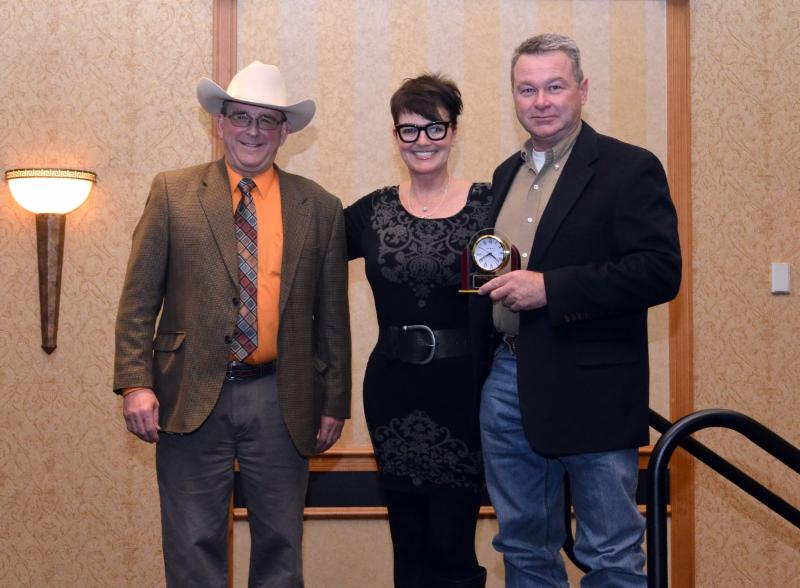 Wayne Hepper of Flying O Ranch, Bismarck, N.D., was honored as the North American Limousin Foundation Commercial Producer of the Year. The award was presented to Hepper and his wife, Jane, at the annual membership banquet January 12 in Denver, Colo.
They were selected from a group of commercial producers nominated by various state Limousin associations to receive the coveted national award. Other finalists included Dale McLellan of Lantry, S.D., and Bruce and Gail Sperr of Sperr Farms, Herman, Minn. Both programs were also recognized at the banquet for their outstanding commercial programs utilizing Limousin genetics.
Wayne grew up on a family-run ranch near Fort Yates, N.D. He began his ranch activity when he was just 24 years old, with six cows. He has since grown his commercial Angus-based cow herd to more than 2,700 cows in south central North Dakota.
The Flying O Ranch has earned a well-deserved reputation as one of the most progressive beef producers in the United States. Wayne and Jane are passionate promoters of the beef industry and recognize how Limousin cattle fit in a disciplined crossbreeding program, adding value throughout the food chain.
The Heppers have purchased Limousin bulls for decades, emphasizing calving ease, growth and carcass merit. They maintain a tight breeding season to keep consistency in the calf crop.
The operation utilizes value-added programs to increase the demand for the calves. He puts an electronic identification tag in all of his calves and targets the non-hormone treated cattle (NHTC) program, along with all-natural programs. He also meets the requirements of the global animal partnership (GAP) program for humane handling.
Wayne still uses horses to sort bulls alone. He has been impressed by the great strides in the improvement of Limousin docility.
Flying O calves do exceptionally well in the feedlot. Wulf Cattle of Morris, Minn., has purchased the Hepper calves in the past, and continues to purchase them for their consistency and performance.
"When he decides to buy a bull, Wayne bids right up there with most seedstock producers," Jerry Wulf of Wulf Cattle said. "They are a top-notch commercial operation that pays strict attention to detail, while at the same time, being believers and advocates for the Limousin breed."

Source: North American Limousin Foundation