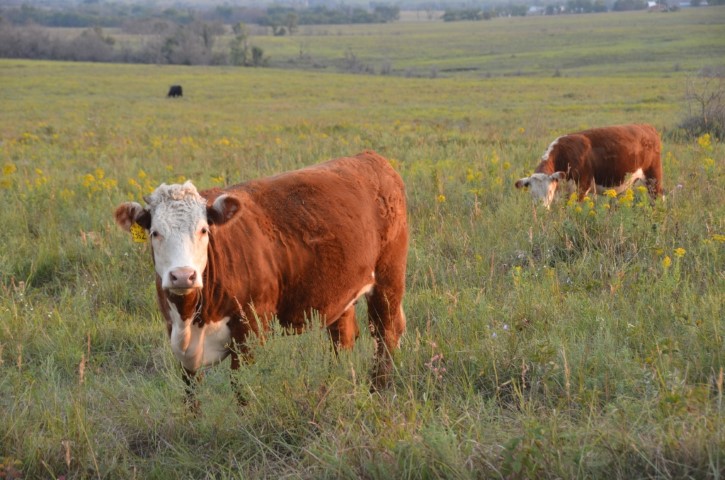 Hereford breeders were challenged to embrace technology, focus on the customer, and concentrate on feed efficiency and end-product merit during the Hereford Genetic Summit Sept. 4-5.
Nearly 300 Hereford industry leaders attended the event hosted at the Darr Agricultural Center/Bond Learning Center on the Missouri State University campus in Springfield, Mo. Throughout the day-and-a-half conference, attendees were challenged by industry experts to think about the future of the breed as well as their individual operations.
The American Hereford Association (AHA) hosted its last "direction" or "type conference" in 2002. A lot has changed in the beef industry and the Hereford breed during the last 12 years. AHA staff purposely called this conference a "genetic summit," instead of a type conference, as similar breed-direction meetings were called in the past.
"Because it is about genetics," AHA Chief Operating Officer and Director of Breed Improvement Jack Ward explained. "We would never tell you not to be concerned about type — the right size, the right length, feet and testicle size, color, the things that phenotypically your customers want. You'll cover that; you need to. But if we want to continue to have demand for our cattle in the commercial industry, it takes genetic proof."
Along with Ward, Craig Huffhines, AHA executive vice president kicked off the conference with a look at the history of the Hereford breed and reminded breeders of the dramatic changes made through the years.
"We are constantly, as seedstock producers, honing in, trying to get better, trying to fine tune this machine. And we can," Huffhines said. "The difference today is we have technology. We have technology that's more reliable, that's more predictable and that can eliminate more mistakes.
"That's one of the reasons we are here today. What move do we make? How do we make our cattle better? Because now, we've got the predictability to make those kind of decisions," Huffhines added. "What we can do with data and what we can do with genomics is going to change what we can do with our cattle. It already is. And that's what's so exciting. We've come up with new traits, economic indexes, development of maternal production traits that are hard to measure."
Then, Huffhines explained, breeders can take advantage of reproductive technologies like ET (embryo transfer) and in vitro fertilization with confidence of the progeny produced.
"We can augment that with DNA technology and get some real predictability," Huffhines said. "We know what they're going to do. That's exciting; that's powerful."
Kevin Ochsner, host of National Cattlemen's Beef Association's "Cattlemen to Cattlemen" and an agribusiness consultant, served as moderator and shared with attendees the importance of navigating and setting the course for the Hereford breed's future.
"Breeders in the seedstock industry are really the architects of tomorrow's beef industry," Ochsner said. "Because of that, we have got to understand where this industry is headed, where consumers are headed and some of the external factors that are going to impact the kind of cattle that are both profitable and acceptable for consumers."
Summit speaker Lorna Marshall, Genex U.S. beef marketing manager, was also at the last Hereford type conference, and she admitted at that time she wasn't a big Hereford fan.
"For those of you who were there 10 years ago, I was a little bit harsh in my comments about where the breed needed to go and its direction," Marshall said. "I was actually really excited to get to come speak to you today because there is probably no bigger promoter and cheerleader for this breed than I am today. That's because of all the awesome genetic change you have made and your attention to the commercial industry."
She continued, "I feel like for the last 10 years, the Hereford breed has been on a mission to become really commercially relevant and the goal that needs to be set forth coming out of this conference needs to be to finish that strong."
Marshall said Hereford is experiencing some amazing times. Hereford bull sales are at record prices, and it's a fun time to be a Hereford breeder and to own Hereford cows.
"Today it's really fun for me to go sell Hereford semen, because I have a plethora of bulls in my lineup that are calving ease bulls that are high accuracy that represent a lot of different pedigrees and can do a lot of powerful things for commercial producers."
She said what Hereford has to offer commercial cattlemen is very different compared to 10 years ago. Marshall praised Hereford on being the first to introduce an udder quality expected progeny difference (EPD), because udders are important to commercial cattlemen. "I promise you that as you continue to turn in that data and publish udder EPDs, the commercial industry will embrace it and utilize it," Marshall said. "You really addressed one of your big issues head on and that says a lot about your breed and your leadership."
Also, Marshall said the Hereford breed has done a good job in the last 10 years focusing on curve-bender cattle that have light birth weight, rapid early growth and moderate mature size. "It's fun today to go sort your database because you have created curve-bender cattle that we can select from and the commercial industry can use," she said.
Kee Jim, veterinarian, Feedlot Health Management Services Ltd. CEO and managing director, shared with Hereford Genetic Summit attendees about what's important to a cattle feeder, key issues and trends affecting the cattle feeding industry, and how seedstock producers can improve based on economic signals from cattle feeders and packers.
As far as the feedlot side of things, Jim said, "As a feedlot operator I want healthy cattle with high growth potential. I want good feed conversion and Yield Grade 1 with high Choice. And my preference for finishing weight depends on when there's margin or not."
He adds, "I think it's important to differentiate between the signal and the noise. The signal is to make sure that what you're doing on the seedstock or cow-calf operation is the right thing relative to the biological constraints of the environmental system you are operating in. Then you've got to make sure you are not chasing some of these things that you can never win on.
"As the Hereford breed, we need to focus on cleaning up past sins that have gotten us in a lot of trouble, and the survivors have rectified a huge number of those problems that existed in the past. I believe that the future for the Hereford breed is about as bright now as it has been in the last 53 years I've been involved in it. We can move forward from here pretty effectively, if we work on feed efficiency and work on improving carcass traits in these cattle over time. I am bullish on the future of the cow-calf industry and very bullish on what we can do here in the Hereford breed."
For more Hereford Genetic Summit highlights, visit the "Summit Proceedings" page at HerefordGeneticSummit.com. On the site, you can watch presentations, download slides and listen to audio interviews of speakers.

Source: American Hereford Association