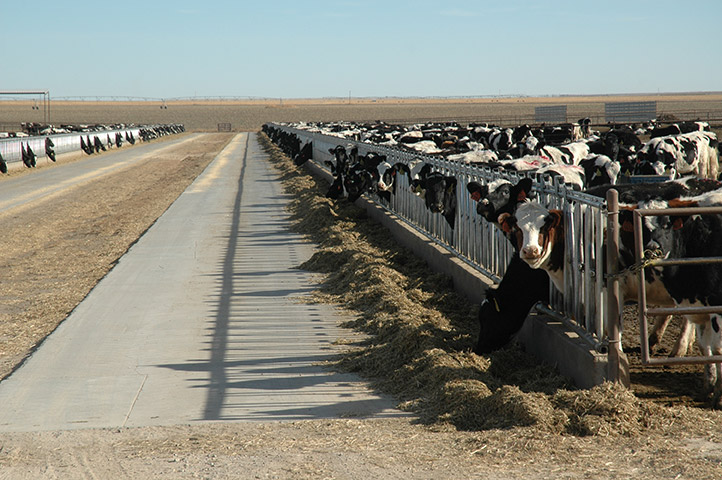 With, wide open spaces and supportive communities, these states are growing cow numbers and milk supply faster than other regions.
Texas: Panhandle Counties account for most growth
Texas' milk shed is big. The Lone Star State is responsible for nearly 4.8% of U.S. production. The rise of the Texas dairy industry can be pinpointed primarily to one geographic region: the Panhandle.

"The state of Texas is similar to much of the country," says Darren Turley, executive director of the Texas Association of Dairymen. The eastern side gets more rainfall, so in the summer high temperatures and the humidity index make dairying a challenge. The further west you go, the drier it gets.
That dry climate combined with cheaper land and communities supportive of animal agriculture made the Texas Panhandle an ideal location for large-scale dairy farms.

"You saw that migration out there basically because you could have a big footprint to draw out as big of modern dairy as you needed and be surrounded by farmland," Turley says.

The feedlot industry recognized early on that cattle comfort could be easily attained in the Panhandle because of the moderate temperatures and dry climate. Feedlots also brought infrastructure to the High Plains of Texas.

"Because the feedlot industry was there first, we had an excellent rail system. We were used to bringing in commodities from other parts of the country and had the capability of bringing in enough grain," says Ellen Jordan, dairy specialist with Texas A&M AgriLife Extension.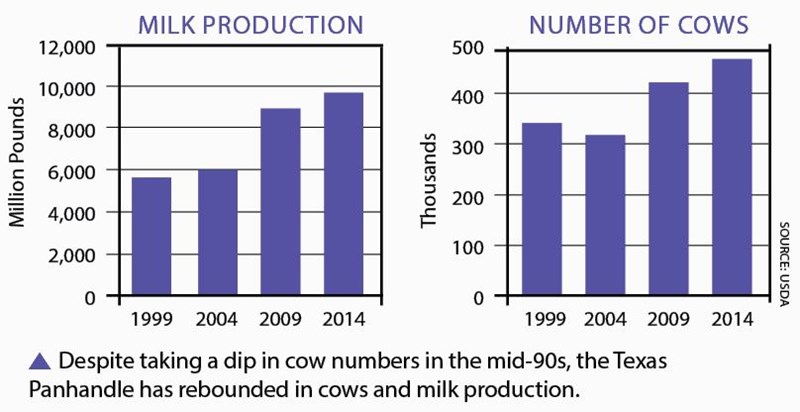 Much of the success for agriculture in the Texas Panhandle lies beneath the ground. The Ogallala Aquifer supplies groundwater for irrigation and watering livestock. The problem is the Ogallala is declining in some areas of the High Plains because the aquifer does not replenish rapidly.

Dairy producer Larry Hancock moved to Muleshoe, Texas, in 1978 to start a dairy of his own. Moving from Arizona, he was well aware of water's importance. "When I moved here, they said the water would last
30 years and that was 36 years ago. They missed it by a little bit, we still have some water," he says.

Hancock milks 4,200 cows with his family. He's seen a shift in cropping, with area producers growing more sorghum silages, which require less water than corn.
"When I first moved there I bought all local hay, but we don't grow a lot of hay now for the same reason," Hancock says. He now buys alfalfa hay primarily out of Kansas and Colorado.
A major player in the proliferation of the Panhandle dairy industry is Hilmar Cheese Company, Inc. In 2007, the California-based company built a plant in Dalhart, Texas, to provide a central location with access to customers and markets, says David Ahlem, chief operating officer.

"It is a good place to dairy and produce milk, which is essential to our operation," he adds. "Supply is growing in the region."

Eight of the top 10 dairy counties in Texas are located in the Panhandle. "That area is going to con-tinue to expand modestly," Jordan adds, "but nothing like the expansion we saw between 2000 and 2010. I would still expect to see 1% to 3% [growth] annually for the long-term."
Colorado: New processing capacity nearly doubles milk output
Doubling milk production in 15 years isn't an easy chore, but Colorado dairy producers have found a way. Today, the state pumps out 3.3 billion pounds of milk, compared to 1.7 billion pounds in 1999.

When Bill Wailes, Colorado State University Extension dairy specialist, was a student, the state ranked about 40th in milk production. "Today, we're going to be in top 12 or 13. We've come a long ways in the past 35 years."

Colorado's not done growing, either. Leprino Foods, based out of Denver, opened a plant in Greeley in late 2011. The Greeley plant takes in nearly two-thirds of the state's milk output, and they are already slated for expansions. To meet the demands of the plant and the Denver fluid milk market, 25,000 to 50,000 additional cows will be needed in Colorado.

"Things in Colorado are really looking towards a growing dairy industry," Wailes says.
Colorado's primary dairy shed is located north of Denver and is centered in Weld County.
During the early 2000s, dairy producer Rick Podtburg saw a steady rise in production occur in his area
to meet a growing population.

"Quite a few dairies grew, but we were probably one of the biggest in terms of growth," he says.

From 1999 to 2014, his Weld County dairy operation nearly quadrupled in size. He now milks 7,000 cows at Longs Peak Dairy with his wife, three sons and an outside partner. "It was just a great market and great place to milk cows," Podtburg adds.

Quality of life is a reason many dairies relocate. Northern Colorado is close to an international airport, shopping, four major sports franchises and recreational areas that make it attractive.

California dairy producers, scouring the country for relocation opportunities, have taken notice of Colorado amenities, says Tom Haren, owner and executive consultant for AGPROfessionals, which helps farmers locate and purchase agricultural property.

Colorado is appealing because it the next place closest to their California
lifestyle, Haren says. That lifestyle factor has also driven land prices up in the prime dairy locations. Land appreciated in value at a faster rate than other areas of the High Plains because of high milk and crop prices.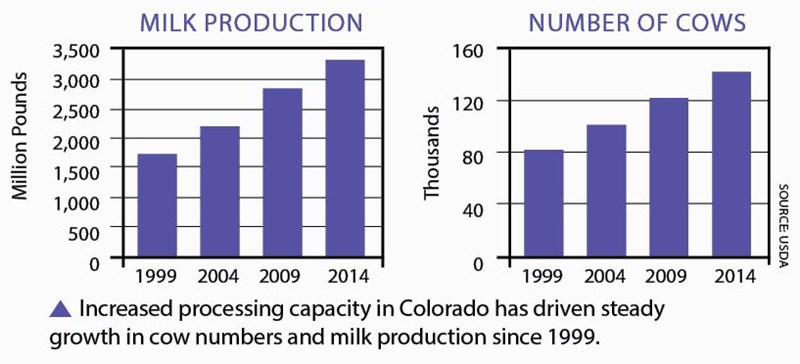 Northern Colorado dairy producers do have to compete for water with municipalities. Water supplies primarily come from mountain runoff, but access is not as limited as other regions of the High Plains that depend on aquifers.
"The water rights in Colorado are particular and they are expensive," Haren says, "but we have water and, once obtained, it is protected significantly  and appreciates in value."
"Once people understand the water situation in Colorado, it becomes a little more palatable," he adds. "The hurdle is getting in the door. Once you're here, the guys that have done very, very well." 

Kansas: A Cow Friendly Environment
The Sunflower State has seen a modest dairy explosion. In 1999, there were just 86,000 dairy cows. Now, there are 143,000 cows.

"When you look at the growth, it has all come from the western side of the state," says Billy Brown, agri-business development coordinator for the Kansas Department of Agriculture (KDA). Western Kansas offers open spaces that offer easy set-up for large dairies.

"Part of the growth has been driven by folks from other places wanting to either expand dairies or continue production in a large-scale dairy model," says Mike Brouk, Kansas State University
Extension dairy specialist. Those producers helped Kansas get to a mark of 118,000 cows by 2009.
    
All of the recent herd growth has been built by producers who were already there—25,000 more cows since 2009. Brouk notes that western Kansas offers an arid climate favorable for dairying. For 10 months out of the year, moisture isn't a huge issue.

But there is also a perception that there is a lack of water in western Kansas. In areas that overlay the Ogallala Aquifer, however, a consistent supply of water can be found.

"Do we have water for expanded animal production in western Kansas? The answer would be yes, but we've got to evaluate where," Brouk says. Distance between other livestock units is an important consideration for all dairies in the High Plains.

"We've been very proactive in trying to keep units apart so you don't have issues of feed supply,
water supply and available land for spreading manure," Brouk says.

The one deficit Kansas faces is milk processing. "We'rstuck in a chicken-and-egg situation where we need a big processor to attract producers, but the processor needs more cows," Brown says.
KDA has worked with the Kansas Chamber of Commerce and other organizations to help attract dairy producers and processors. Kansas has passed a sales tax exemption for the construction or renovation of livestock facilities worth more than $50,000.

There is also incentive for milk processors, as 70% of the milk produced locally is exported out of the state to be processed.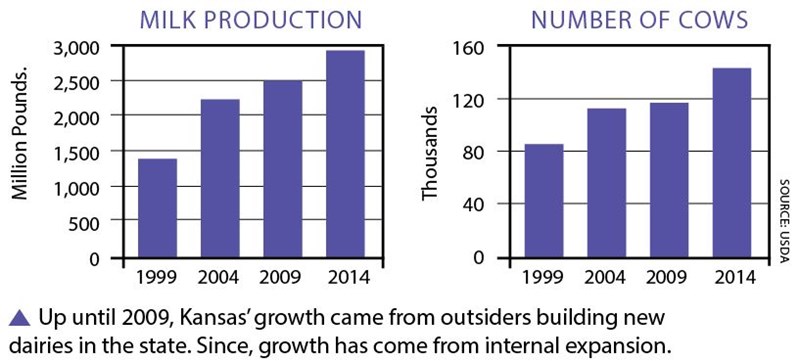 A new processing plant is coming for western Kansas. In November, Dairy Farmers of America (DFA) said it was partnering with a Chinese company to build a dry milk plant for export to China. The size of the plant is to be determined but construction is to be completed by 2016. "This plant will not only provide our members with the security of having a local processing facility that will provide significant freight savings for many years to come, but it offers them the opportunity to have direct investment as well," says David Jones, chief operating officer for DFA's Southwest Area.

Kansas can provide the cows, milk and ag infrastructure needed to build Dairy Farmers of America's (DFA) new plant, says David Jones, chief operating officer, DFA Southwest Area.