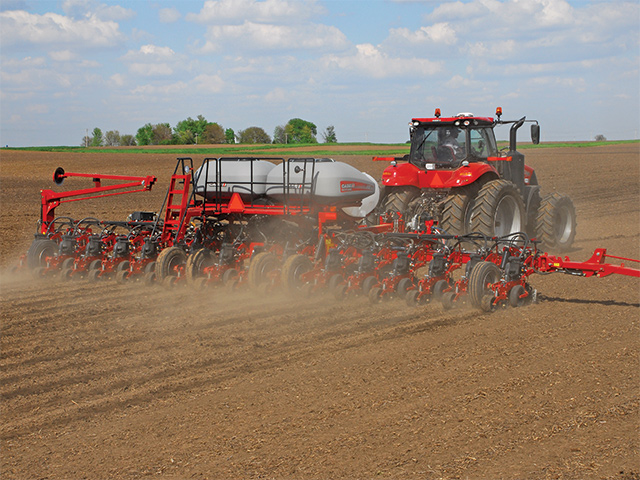 In the '80s classic movie Top Gun ace fighter pilot Maverick's rally cry is something you can probably relate to when you head to the field each spring: "I feel the need—the need for speed."
Today, with the ability to supercharge your planting process with high-speed machines, the question is: Can you cover those acres faster than before and still do a good job of placing the seed in the ground?
The results from two seasons of testing high-speed planting in the Farm Journal Test Plots Program show the short answer is yes. But with high-speed planting, it's more important than ever to achieve good downforce pressure and maintain full ground contact, says Ken Ferrie, Farm Journal Field Agronomist.
When too little downforce is used, farmers usually plant seed too shallow. That often results in one of two common problems, notes Matt Duesterhaus, who helps with the Farm Journal Test Plots. "Shallow-planted seeds in dry soils might not imbibe water and will germinate later, resulting in plants with small ears or barren plants," he explains. "Or, shallow-planted seeds in soils with adequate moisture might emerge sooner, but can develop as rootless corn."
Excessive downforce is a negative as well. It creates seed trench compaction, which leads to sidewall smearing and sometimes "hatchet" roots that grow up and down the furrow rather than in all directions.
Planter downforce reaction varies depending on the system used to create it—springs, pneumatic or hydraulic. Duesterhaus says hydraulic systems can react quickly with adequate amounts of downforce, and will probably become the industry standard. Pneumatic systems allow for easy adjustment across the planter width, but they don't usually react fast enough or on an individual row basis, which is necessary to be successful with high-speed planting.
"Some farmers set down pressures higher in pneumatic systems when they're picking up speed, but they end up with too much downforce in some areas of the field just to have enough in other parts," he explains.
In 2016, Ferrie's team conducted three trials to evaluate high-speed planting with different speeds and pounds of downforce.
One of the three trials was planted with a Case IH 2150 Early Riser high-speed planter, evaluating both downforce and speed. In that trial, Duesterhaus says the field required 170 lb. of downforce at 10 mph to keep 99% ground contact, which ended up being the standard setting. Downforce was also reduced to 130 lb.
to evaluate a light setting. The speeds used to evaluate downforce pressure in this trial included 5 mph, 8 mph, 10 mph and 12 mph.
"We ran the light downforce and the standard setting at a slow speed of 5 mph clear up to 12 mph, changing downforce as we went across the field. We didn't see any difference in yield until we got to 12 mph using the 130 lb. of downforce," Duesterhaus says. "At that point, we saw yield start to decrease. But even then, 130 lb. of downforce did a pretty good job of maintaining plant spacing and depth at the 8 mph and 10 mph speeds with the hydraulic downforce."
In the other two 2016 trials, Ferrie's team used two John Deere model 1775NT planters, one with John Deere ExactEmerge with pneumatic downforce and the other with Precision Planting DeltaForce and SpeedTube.
"With both planters we set downforce pressure to maintain 99% ground contact," he says. "As we increased the speed, we were able to maintain yields with both planters."
In all three of the 2016 trials, the standard deviation was about 1.6.
Ferrie's research shows farmers should shoot for a standard deviation of 2 or less. A 2 means the seeds planted are within 2" of where you planned to place them.
"If that number starts to get beyond a 2, then we're going to have to start making adjustments to the tillage or to the planter to get that number back in range," Ferrie says.
Duesterhaus notes regardless of speed and down pressure, each planter was able to singulate seed well. "That reinforced that we're more concerned with depth control and ground contact than with the spacing itself," he adds.
In 2017, Ferrie's team put in a single high-speed planting trial using a John Deere planter fitted with SpeedTube. The study tested three speeds: 5 mph, 8 mph and 10 mph and five downforce settings: 50 lb., 100 lb., 150 lb. and 190 lb. set manually and one automatic setting that targeted 100 lb. of downforce across the field. The plot was not replicated.
"We maximized yield and efficiency up to about 8 mph with downforce pressure in the 100 lb. to 150 lb. range," Duesterhaus explains. "Most newer monitors give feedback on ground contact and spacing but you also need to watch the planter to make sure it's riding smoothly and ground truth with the monitor."
It only takes a few minutes to check your planting process by digging up a few seeds to evaluate their placement. Those few minutes are a good investment in your crop's performance for the entire season, he adds.
Two years of field trials have also reinforced that success with high-speed planting requires good seed-bed preparation before the planter ever rolls into the field.
"In areas of a field that are too rough or have had different types of tillage, you might simply have to slow down," Duesterhaus says. "Just because you have a high-speed planter doesn't mean you have to push the speed limit all the time."
---
Increase Speed, Increase Downforce
Keeping the planter in full contact with the ground is key to achieving uniform depth.
Shallow-planted seeds in dry soils might not imbibe water and will germinate later.
Shallow-planted seeds in soils with adequate moisture might emerge sooner, but could develop as rootless corn.
Good ride and uniform seed depth dictate uniform emergence and growth.
Row unit bounce can cause uneven ear and plant height.
---
Thank You to Our Test Plot Partners
Our appreciation goes to: Case IH, New Holland, Kinze Manufacturing, Unverferth Manufacturing, Ag Leader, Gingerich Farms, McLaughlin-Dooley Farms and Crop-Tech Consulting
Farm Journal Test Plots Pledge
You can count on our test plots to be conducted on real farms with real equipment using a high-touch set of protocols. The information will be completely independent and actionable. Our hands will always be in the dirt researching the production practices and technology that are best for you.
To learn more, visit www.FarmJournal.com/testplots