Kuhn Krause Dominator 4855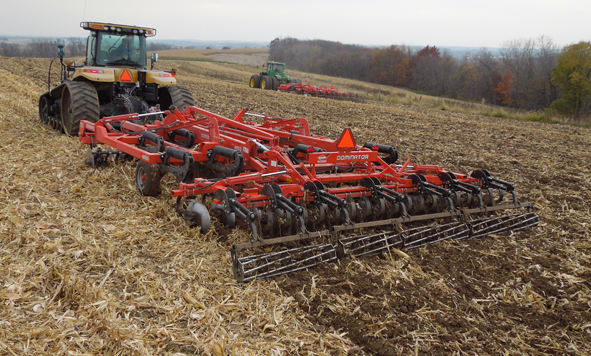 Designed to reduce subsoil compaction, provide residue management and provide a level field finish, the Dominator 4855 is available in 7, 9, 11 and 13 shank configurations. All walking beam weldments include 2 ¾" diameter "slip-in" spindles and 8-bolt wheel hubs, rated at 10,000 lb. each. The 4855-11 and 4855-13 models sport a new tire size with 360/65R x 17.5, which maintains flotation capabilities while increasing the weight capacity by 2,200 lb. per tire to transport reliability. For easier maintenance, the 4855 includes hardened bushings and heat treated pins to replace grease zerks and standard pivot pins in the parallel mount for the rear disc conditioner's lower links.
A new angular contact bearing cartridge has been incorporated into each rear disc conditioner blade assembly. This bearing uses a multi-lip (5) bearing seal and a machined hub spindle. Each disc conditioner blade is secured to the hub spindle and bearing assembly with a 5-bolt blade pattern. The 4855 comes with an optional 24/7 Soil Conditioning Reel that consists of a new HD Round Bar Reel with maintenance free bearing assemblies mounted on a heavy duty ductile cast bearing arms.
To learn more, visit www.kuhnnorthamerica.com.
Horsch Joker HD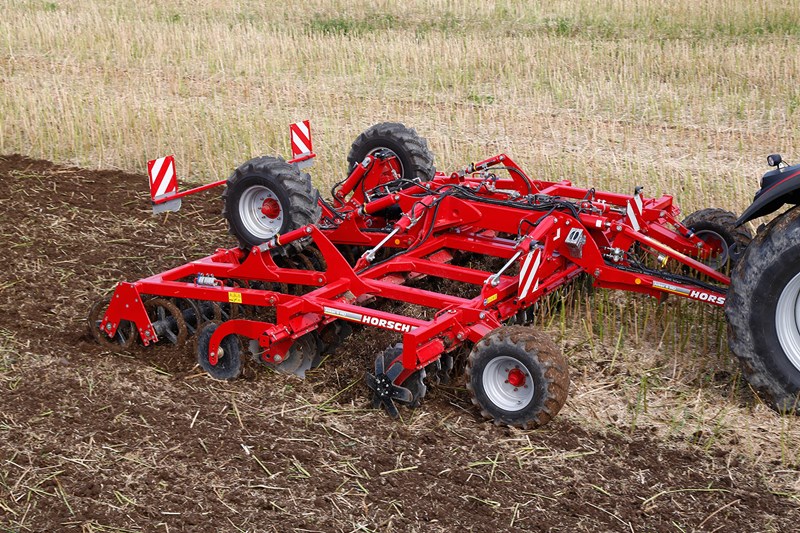 To better manage shallow fall tillage in areas of high residue and extreme soil conditions, the Joker HD sports larger disc blades. With a 20% increase in blade size, the model is able to quickly size and blend residue down to a maximum operating depth of 6". The 24-inch discs have also moved to a six-bolt hub on a newly designed, heavier bearing.
With a larger distance between the two rows of discs, the residue and soil is cut a second time to ensure it is sized properly to accelerate the decomposition process. The transport tires have been integrated into the frame to move more weight over the center and directly add to its ability to penetrate.
To maintain even working depths across the machine, the model is equipped with a pressurized accumulator system, adding down pressure to the wings, while maintaining flexibility for rolling terrain. Depth setting is controlled by a single point on the frame or through the tractor cab with the electronic depth control option. Gauge wheel adjustments are adjustable by a hydraulic cylinder or from the cab.
The Joker HD series comes in 20-, 30-, and 40-ft. working widths and will be released in fall 2015.
For more information, visit www.horsch2.com.
Summers VRT2530 Variable-Rate Tillage Tool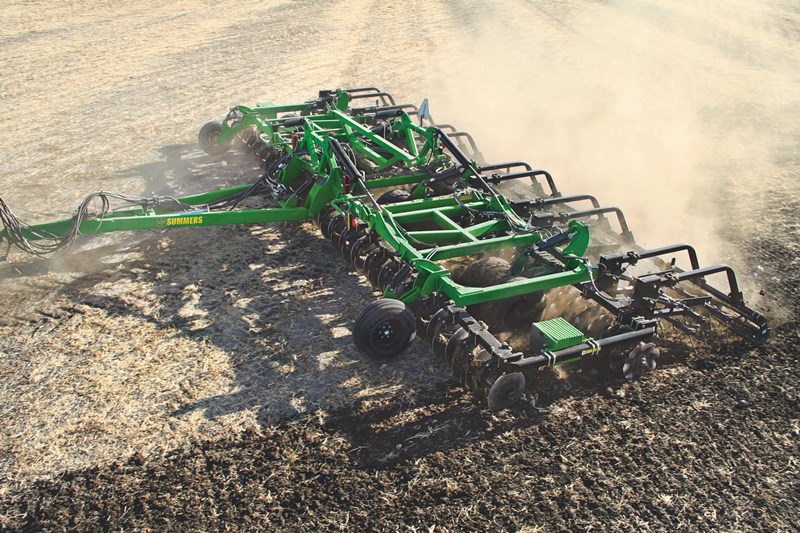 Variable-rate technology is commonly used across the countryside and the method can also be seen in tillage equipment. Available in sizes up to 40 ft. wide, the VRT2530 offers a mix of conventional and vertical tillage capabilities and allows the operator to adjust tillage aggressiveness on the go. The model features a front row of dual-mounted disk blades and a rear row of gang-mounted coulter blades. The front disk blades are slightly concave and include a manually adjustable angle setting from 5° to 24°. The rear coulter blades are fixed at a 0° angle for true vertical tillage performance.
Using the hydraulic hitch, the operator can shift weight between the front and rear blades. More weight on the front increases soil mixing and placing more weight on the rear results in residue sizing with less soil disturbance. Weight can be shifted equally between the front and rear to achieve a combination of benefits.
For more information, visit www.summersmfg.com.
McFarlane Incite 5000 Series Universal Tillage Tool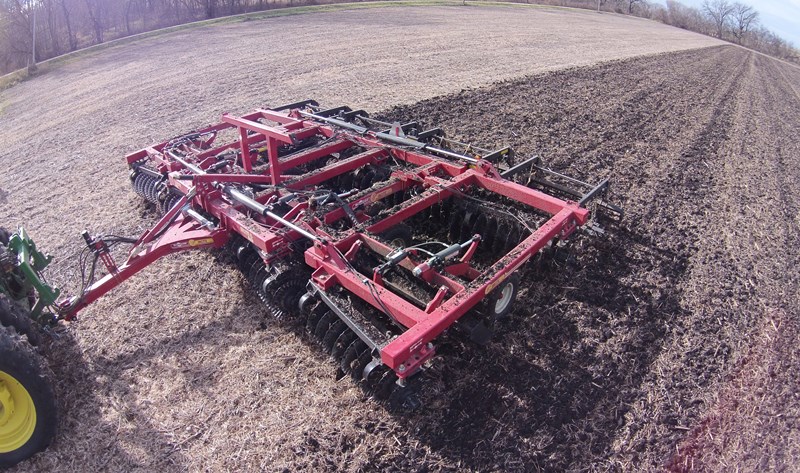 McFarlane Mfg. Co. is expanding its tillage lineup offering its first ever Universal Tillage machine, the Incite 5000 series. The machine provides the flexibility to adjust to a wide range of soil types and field conditions, whether used in spring or fall. The 28 wave concave blades are versatile enough for both high speed operation at shallow depths or up to 6" for more traditional disc work.
Available in working widths from 14' to 40', the machine is equipped with the Universal Tillage Selector which allows for on-the-go hydraulic adjustment of disc gang angles to 3°, 6° or 9°. The 7-blade, 18" diameter open center Dura-Reel offers hydraulic height adjustment from the disc blade depth to 8" above. The 3-Bar Flexible Tooth Harrow in combination with the High Carbon 8-Flat Bar Rolling Basket allow for use in different soils and residue conditions for the ultimate finished seedbed. 
For more information, visit www.flexharrow.com.