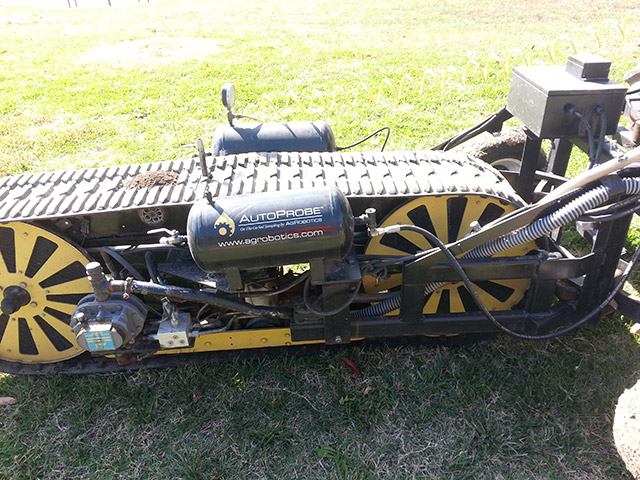 Arkansas farmer Jim Burton was sick and tired of taking soil samples in his fields. So being a natural tinkerer, he devised a better way to do it. From Burton's garage began a decade-long project, and he named the love of labor that resulted from his hard work the AutoProbe, and formed AgRobotics to market it.
Pulled behind a tractor, the AutoProbe can take dozens of 6-inch soil cores per acre – one every 8.5 feet – in a matter of seconds. They are then mailed off for analysis just like any other soil sample. Jeff Burton, senior vice president of business development, says the AutoProbe addresses an interesting pain point in precision ag.
"People really don't want to take soil samples, even though they need to," he says. "It's one of the last operations you have to do by hand, but it's the foundation of the entire precision process."
The device caught the eye of Agronomic Innovations, LLC., a start-up owned by Allen Lash and Harold Birch (of FamilyFarms Group notoriety), which purchased AgRobotics in July. Lash says he's confident the AutoProbe represents a superior way to pull soil samples.
"We're spending all of this money on precision ag, and yet we're still testing soil like we did 50 years ago," he says. "Spot sampling isn't precision. You only understand what's happening in that spot where the sample's pulled. It's logical that more samples are better. It's also statistically more accurate."
In the video below, Jason Webster, an agronomist with Beck's Hybrids, shares his thoughts on soil testing and demonstrates the AutoProbe in action.
For more information, visit www.agrobotics.com. Want to talk about more on-farm technologies? Visit the AgWeb technology discussion forums.