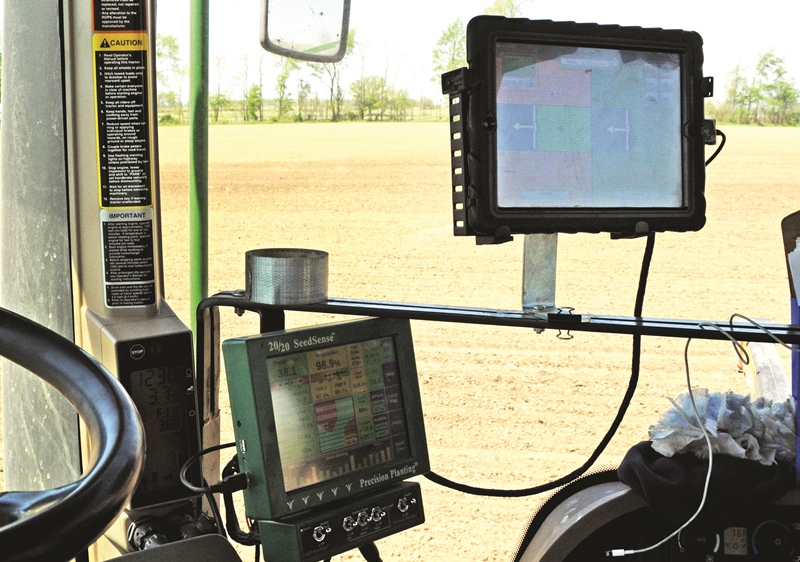 A growing number of farmers are using high-tech tools to not only boost crop yields, but to ratchet down costs. For all farmers, that's front and center for 2015. "I saved $30/acre on nitrogen with no cutback on yields at all," says Scott Jarrett, a Baxter Springs, Kan., corn, soybean and wheat producer.

Jarrett and other producers are paring back costs on everything from fertility to labor to catching mistakes. This allows them to match the brave new world of crop prices. But they are careful not to cut so deep that they hurt yields.

Jarrett trimmed nutrient costs with the aid of his new Trimble GreenSeeker crop-sensing system, which measures nutrient needs in real time. Working in tandem with his variable-rate fertilizer applicator and cloud-based field maps, the unit suggested a 50% nitrogen application cutback on his wheat last year. Initially, Jarrett thought the recommendation might be too aggressive. But the positive experience he's had with his software the past two years gave him confidence to roll with it.

"It's a real big deal," Jarrett says. Until now, he's lacked real-time specifics to allow field-by-field adjustments. The sensors recommended the cutback based on what it determined was leftover nitrogen. Jarrett notes that sometimes the sensors will tell him just the opposite—to apply more than he historically has. That, too, can cut costs—actually, by boosting yields.

Nitrogen rates are not the only nutrient costs that Jarrett has been able to trim. On corn, a different system allowed him to cut phosphorus and potassium rates by 10%. "I'm soil sampling every five acres, but I think I'll probably cut that back to 10-acre grids," Jarrett says, underscoring the importance of continual flexibility and adjustment. His biggest savings have actually been on lime, which he's been able to cut back by 50%. "I won't be able to do that every year," he quickly adds.
Hiring CFO Pays Dividends
The key to cost containment for Todd Stephenson, a corn producer from Fortville, Ind., has been to steadily improve his cash flow and budgeting process. Both are done weekly in almost real time. Having such precise cost information—with the help of a CFO—keeps costs in check and pinpoints areas that warrant attention. "If something isn't in the budget, we don't do it unless we can find the money in a category that's under budget," he says. "It helps us hold back on purchases."

"We run a lot of 'what if's', says Stephenson. For example, his detailed budget and cash flow process clearly showed that he was dollars ahead by leasing equipment instead of owning it. "Selling our equipment also freed up cash we could plug back into working capital," he adds.

It doesn't stop there, as Stephenson uses his budget process to fine tune other costs. "We found that we could trim back employees to one for every 1,000 acres. I'm always trying to reduce breakeven costs," he says.

One way he has reduced cost is through an inventory control system. Everything is weighed in and weighed out. It's paid off. "We've found loads of grain we weren't paid for," Stephenson says, and that's real money.
Shifting Crop Mix
"One of the biggest ways I'm cutting costs for 2015 is to shift acres from corn to cotton," says Braden Gruhlkey, a crop producer in Wildorado, Texas. He calculates a $50/acre advantage to make the switch.

That's not his only cost-trimming move. A tillage shift—to strip till—is reducing fuel costs and labor. "It also allows me to keep equipment longer," he says. One of the biggest ways Gruhlkey is fine tuning costs, however, is to precisely match inputs to yield goals. He's doing that with cloud-based field mapping offered through Conservis, his software supplier. "If I have the water and fertilizer, I'm hoping that mapping and soil testing will allow me to reach 240 to 270 bu./acre corn yields."

Gruhlkey's Harvest and Inputs software system calculates costs and returns for his variable-rate system on a per-field basis with detailed history of input use. That way, he can book total input needs when suppliers are offering the best deals. It also allows him to apply optimal rates on a micro level, but no more than that.

"The biggest payoff has been on the harvesting side, however," he says. His local elevator's computer system made an inaccurate calculation on corn moisture even though the moisture reading was correct. That effectively shorted Gruhlkey by 3,500 bu. Because his system double-checks all weights, Gruhlkey caught the computer mistake and the elevator credited him. "That's a lot of money, and paid for the system."