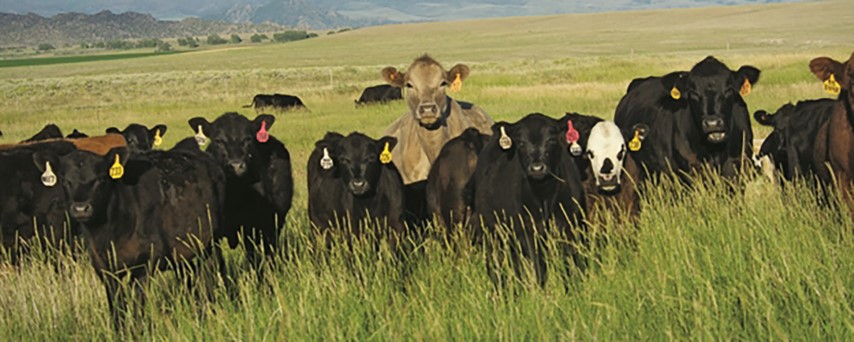 Despite record prices, cattle industry struggles with drought's long coattails
When Oklahoma rancher Adam Brooks looks over his diminished herd, he dreams of what might have been. With feeder cattle and calf prices at record levels, Brooks and other ranchers in the Central Plains would have cashed a handsome paycheck this past fall, had they been able to hold their herds together. The historic two-year drought that still grips much of the region, however, forced herd reductions and robbed Brooks and others of calves they would have sold.

"It's been tough," Brooks says. "We've reduced our herd by half, and our production costs are up because we've had to buy so much feed. We're due for a better year."

Change ahead. With record-high cattle prices, it might appear that producers are enjoying profitable times—except those prices also reflect an industry nearing a tipping point.

That tipping point is excess feeding and packing capacity, and as competition heats up for cattle, those businesses are closing. USDA data reveals the total capacity of 1,000-plus-sized feedyards was 16.9 million head on Jan. 1, 2013. The latest cattle on feed report, however, says those same sized feedyards currently have an inventory of 10.6 million head, or an occupancy rate of 62.7%. In other words, one out of every three feedlot pens is empty.

USDA figures also reveal how Amer­ica's shrinking cattle herd has affected smaller feeders. In 2012, at least 2,000 feedlots with capacities less than 1,000 head ceased operations, a reduction of 2.7% in that category. That same year, 30 feedlots with capacities of 1,000 to 1,999 head were shuttered.
More visible to the casual observer, however, are closures at the upper end of the scale—where more jobs are lost and the effects on a local economy are devastating. Almost a year ago, Cargill, the nation's third largest beef packer, closed its Plainview, Texas, processing plant, citing a declining number of available cattle. The plant processed 4,000 head of cattle per day and employed 2,000 people.

At the time of the closing, John Keating, president of Cargill Beef, said the Plainview decision was made after an exhaustive analysis of the regional cattle supply and processing capacity situation in North America.

"We were compelled to make a decision that would reduce the strain created on our beef business by the reduced cattle supply," Keating says. "Increased feed costs resulting from the prolonged drought, combined with herd liquidations by cattle ranchers, are severely and adversely contributing to the challenging business conditions we face as an industry."

In October, Cargill also announced it will close its Lockney, Texas, feedyard by summer 2014 for similar reasons. The Lockney yard, with a one-time capacity of 62,000 head or 120,000 cattle annually, primarily supplied cattle to the Plainview packing facility 15 miles away. Cargill will continue to operate two remaining Texas feedyards in Dalhart and Bovina.

In Kansas, Hays Feeders closed in early 2013 for similar reasons. The 18,000-head facility was part of Pratt Feeders. Jerry Bohn, general manager, says the decision to close the facility was a "function of the economics of the industry."

Those economics have been bleak for the past two years. High grain prices that were a boon to crop farmers have been devastating to livestock producers. John Nalivka, president of Sterling Marketing Inc., a livestock economic and research advisory service, says feedyards have lost money on cattle marketed for 19 of the past 24 months, including a string of 17 months in a row that ended in October of 2013.

"Feedyard profitability is primarily a function of the cost of feeder cattle and the cost of grain," Nalivka says. "Both of those inputs have been historically high for the past two years."
With the return of normal weather and ample rainfall this year, cow-calf producers are on track for record high net returns, nearing $300 per cow.
*Forecasted
---
Drought's long coattails. Anyone who has experienced a flood can attest to the devastation and the lingering grief of crops and possessions lost. But in many ways, a drought can be worse. It's a slow, lingering destruction that gradually sucks the life out of the fields first, then the animals and eventually an entire community and region. Just as a drought takes time to work its misery, recovery is sluggish.

For cattle producers, the drought came at the most inopportune time. Cattle numbers were already low at the beginning of 2011 with a total of 92.6 million head, including 30.9 million beef cows. Prices were relatively high for feeder cattle and calves at that time, suggesting ranchers would begin expanding their herds and the squeeze on feedyards and packers would begin to ease. Mother Nature had other plans, however.

The drought, which began in the Southwest in 2011 and expanded across the Central Plains and into the Midwest in 2012, shifted herd rebuilding into reverse. By the beginning of 2013, the U.S. cattle herd had declined 4% from 2011 levels to 89.3 million head, and beef cows fell to 29.3 million head, the lowest in 60 years.

While much of the Western Plains remain in drought conditions, a return to more normal conditions in the Midwest and parts of the Central Plains in 2013 produced a bountiful harvest. That's good news, but rain does not produce calves as quickly as cockleburs in a cornfield. Indeed, analysts say that even if conditions for herd expansion are favorable, it will take at least four years before beef cow numbers return to 2012 levels.

Cattle numbers and beef cow inventories are sure to be lower again when USDA releases its annual cattle inventory report this month. That will mark the eighth consecutive year of decline, a loss of more than 6 million cows during the past 18 years.

"We expect the beef cowherd to be about 29 million on Jan. 1," says Tod Kalous, analyst with CattleFax. "That's 1.158 million fewer than in 2012. Our analysis suggests it will take near-
record changes to beef cow slaughter and heifer retention to get beef cow numbers back to 2012 levels by 2016."

Specifically, he says, beef cow slaughter would need to decline by 1.1 million head in the next two years, while the replacement heifer number would need to increase by about 540,000 head in the next two years.

"Since 1980, there have only been a handful of times in which the heifer replacement number has increased by more than 500,000 head," Kalous says. "As for beef cow slaughter, the biggest two-year decline since the 1980s has been 850,000 cows. In other words, since 1980, beef cow slaughter has never declined by a million head over a two-year period."

Production efficiency. "The differences between the beef industry today and 60 years ago are amazing," Nalivka says. "We are producing nearly three times as much beef from the same
inventory as in 1952, and we are producing significantly higher quality beef aimed at modern consumers."

Such increases in production effi­ciency have helped the beef industry minimize market share losses to other proteins. But now the beef industry needs the bleeding to stop and numbers to climb. "Expansion is driven by forage availability, calf prices and profit expectations," Nalivka says. "If we see ample rain in 2014, all three of those factors will be in place to ignite cowherd expansion."

Indeed, price and profit expectations are sky high for 2014. With tight supplies, analysts project record-high prices for every class of cattle, and average profits of nearly $300 per cow. It's a shining outlook—if it rains! 

You can e-mail Greg Henderson at [email protected].