Written by Nate Birt and Margy Fischer
While John Deere's 2011 product lineup was the company's largest in its history, the 2014 model year product release is a close second.

"For John Deere to grow, we can't do it alone. It's only through the power of the partnership with our dealers that we can give farmers distinctive value," says Luke Gakstatter, vice president of sales and marketing for the company.

For the past three years, John Deere has focused on three key value drivers–performance, uptime and cost of ownership. "In 2010, we started on the path to today's Tier 4 Final-compliant engines by meeting the emission standards of that time while adding value," Gakstatter explains. "In 2011, we launched our FarmSight strategy. In 2012, we integrated that technology into real solutions."

The company says it invests more than $3 million a day on research and development, with the majority dedicated to meeting the latest Environmental Protection Agency emissions standard. Most of the new machines are powered by PowerTech Plus PSS Tier 4 Final-compliant engines, which incorporate selective catalytic reduction (SCR) systems. SCR requires the use of diesel exhaust fluid (DEF), which has led John Deere to talk total fluid engine efficiency rather than just diesel efficiency.

To commemorate the 50th anniversary of the powershift transmission on the John Deere 4020 in 2014, the company introduces the e23 powershift transmission that boasts advanced automated and overall fluid savings in the field. It features 23 forward gears evenly spaced 15% apart and 11 reverse gears approximately 30% apart.

In addition to engines and transmissions, John Deere offers a spectrum of updates from high horsepower machines to high-tech solutions.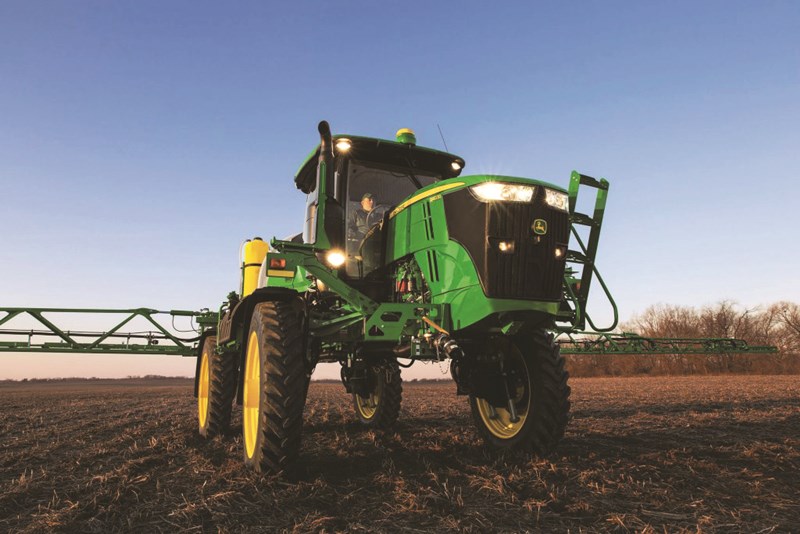 4 Series Sprayer
---
All-new applicators. The new-from-the-ground-up 4 Series self-propelled sprayers include the 800-gal. R4030 and 1,000-gal. R4038 models. Both sprayers can be outfitted with 120' booms and a 200 cu. ft. New Leader dry spinner box, come Direct Injection Ready, are built with CommandView II cabs and feature fully integrated GreenStar 3 2630 displays. An optional Solution Command System provides push-button automated loading, and a front-fill option makes the process faster with 3" Quick Fill couplings. The boom and the suspension have been re-engineered for better performance in the field and a smoother ride.

The R4030 model is outfitted with a 6.8-liter PowerTech Plus PSS engine and has a four-wheel hydrostatic drive with top speeds of 20 mph in field and 30 mph in transport. The R4038 sprayer is powered by a 9.0-liter PowerTech Plus PSS engine and a hydrostatic drive with top speeds of 25 mph in field and 35 mph in transport.

Faster, smarter forage. The W235 Windrowers will be offered in two configurations—a Rotary (compatible with 994 and 995 heads) and a Draper (compatible with the 600D head.) The W235 is the first John Deere windrower with integrated AutoTrac. The new machines are outfitted with the same cab as the S Series combines. The W235 features a 6.8-liter Tier 4 Final-compliant engine, rated at 235 hp, which is 30 hp more than the previous model. The cooling system has been redesigned with air being taken in from the top of the machine.

Mid-range muscle. The 7R tractor series features five models ranging from 170 to 242 PTO hp (210 to 290 engine hp) and powered by 6.8- and 9.0-liter PowerTech PSS engines. All of the models can be geared with the new e23 powershift transmission with Efficiency Manager. The 7R tractors also feature a new cooling package that improves fluid economy. Inside the CommandView III cab, the operator will find the new CommandArm and CommandCenter, as well as a 40° seat swivel.

A new standard. John Deere is referring to its latest 8R tractor as "the most productive row-crop tractor on the planet." With five wheeled models and three tracked models, the series ranges from 200 to 308 PTO hp (245 to 370 engine hp). The top two-wheeled models and all three tracked models are geared with an infinitely variable transmission (IVT). A 16-speed power­shift transmission is standard on the other four models, and the IVT is optional. The 2014 8R tractors also feature the new CommandView III cab and CommandArm and Command­Center. The tractors are powered by a 9.0-liter PowerTech PSS engine. An optional 85 gal. per minute hydraulic system is available for high-demand hydraulic applications.
S Series Combine Track Option
---
Capable combines. The company's combine line has expanded with new options. The front axle of the four largest combines can be outfitted with 36" tracks. An automated Interactive Combine Adjust­ment system is standard to adjust combine settings on the go. In the cab, an optional leather seat can be heated and ventilated. A Class 5 machine, the S650, has been added to the lineup and can be matched with a six-row corn head.

Liquid solution. Two models—vertical or side-fold—of the 2510L Liquid Fertilizer Applicators are available. The toolbars are 30', 40' or 60' wide, and each has 18 different spacing and row configurations. The applicator uses a GreenStar Rate Controller.

Wireless data transfer. Expanding its FarmSight strategy, John Deere introduces wireless data transfer as an upgrade to JDLink Ultimate with Remote Display Access. This allows data to be sent wirelessly from the field to http://MyJohnDeere.com, which can be accessed by a smartphone, iPad or computer. Data can then be downloaded for analysis and further evaluation.