Secondary enterprise serves as a testing ground
Top Producer of the Year Finalist John Carroll pilots management strategies with the U.S. hog operation before launching them on a 30,000-acre cotton, soybean and corn farm in Bahia, Brazil.
---
When most producers think of hogs, the words "peaceful" and "relaxing" don't come to mind. That's not the case for Illinois native John Carroll, who spends time in his hog facilities after a day's work in the office.

"It's where I go to get away from the paperwork and computer; it allows me to work with animals and use my hands," Carroll says.

Carroll's primary responsibility in his family's farming operation is a 24-hour flight away in South America, where he and wife, Kelly, operate and partly own a 30,000-acre farm in Luis Eduardo Magalhães, Bahia, Brazil. When he is home in Carthage, Ill., which is more since his daughter began school in the U.S. last fall, he is in charge of the sow herd. Carroll has eight employees to help with the hogs in the U.S.

"When the farm's employees stop working for the day in Brazil, it is only 3 p.m. here," notes Carroll. That's when he heads to the hog barn for a little R&R and to test out different employee management practices he can use with his more than 160 employees in Brazil.

"If something goes wrong with eight people in the U.S., it does not create near the ripple effect as it does with a large number," he says. "I can test a theory, tweak or toss it out if it doesn't work without creating a serious consequence."

At the young age of 32, Carroll has gained enormous experience in managing diverse employees. He has broken through language barriers and cultural divides. Carroll has also learned something farmers twice his age never grasp: the art of delegation.

"I came to the realization that I could not drive the tractor, apply crop protectants or breed every sow," he says. "I knew I had to find people that had the same drive that I do.
---
"The goal is to expand, but the means of expansion is to do the best we can with what we have."
---
I work to make sure we have the right people in place, identify their strengths and weaknesses, and try to put them in a position to succeed."

It's one of many reasons Carroll was named a finalist for the 2013 Top Producer of the Year Award.

"John's excellent business skills and ability to build and maintain relationships with people in many different positions and cultures have contributed greatly to his success," says Loyd Brown, Hertz Farm Management president. "He rewards employees for success and longevity."

One individual who has been rewarded is Jesse Henoch, sow unit manager. Henoch began working for the farm in September 2011 with no farm experience. "It was a steep learning curve for me," Henoch says. "I started out as a farm hand, but John had protocols and systems in place to help me learn, stay focused and do the job correctly."

Carroll's on-boarding process turns what often is a stressful situation into a positive experience for new employees and sets the tone for their perception of the farm.

Growing Across Borders. Carroll's hog haven might not be a relaxing place for long. He's looking to increase production by 50% in the next year, which provides enough opportunity for his two cousins to enter the farm business. Carroll manages the sow herd; one cousin manages the nursery and the other cousin manages the finishing units.

"With more people coming back to the farm, we need to formalize our structure and job descriptions and really work on communication skills," Carroll says. "We come from different households, are different ages and have different values and ways of doing things. We can't assume that everyone 'just knows.'"

The first part of making a group decision is to get consensus and determine if it's a good idea, Carroll explains. Then the group determines who will be responsible, considering the different life stages of each individual. Carroll always asks, "Are we doing the best we can with what we have?" and "Does it make sense in the current business environment?"
---
"Day in and day out, I like doing it better than other people. I try to be in the top 10% or 20% of industries that I'm a part of."
---
"I think we are in the top 10% of production in the U.S.," Carroll says. His assessment is based on pigs per sow per year. "We have existing buildings that we can add on to and can use our current employees," Carroll explains, noting that they are in favor of expansion, but not if it comes with a loss or great cost.

"We can't expand our land base anymore in Brazil because of government restrictions," Carroll says. "The goal is to expand, but the means of expansion is to do the best we can with what we have.

"We plan and work to position the farm so that we have reduced debt, reduced risk and are not centralized so that when something bad happens, we are prepared and can expand in a big way. We always operate a little counter to the trend or traditional way of thinking," he says.

Built to Last. Carroll is in it for the long haul. It's a marathon, not a sprint, and his decisions are made with the long-term goal in mind.

"We don't have to keep share-holders happy," says Carroll, noting that's what sets him apart from Tyson and Smithfield. "This gives us an advantage because we have the freedom to make decisions that are best for the long-term sustainability of the farm, even if it does not look good on a balance sheet short-term.

"We have minimized our risk in this area: we own our crop ground, feed our corn and soybeans and use the manure for fertilizer. This creates a natural hedge, which allows us to better withstand the tough times."

Brown, who works with many farm managers, says Carroll brings a keen business sense and great entrepreneurial spirit to the table.

"He is organized, pays attention to detail, communicates effectively and surrounds himself with experts," Brown notes. "John always looks to make things better. He does not see challenges; he sees opportunities and puts together business plans to take advantage of them. John sets the bar high."
Homeward Bound
John Carroll and wife, Kelly, didn't inherit the farm's office chair in the U.S. They've spent the last eight years living in Luis Eduardo Magalhães, Bahia, Brazil, getting the farm established, running and working like a well-oiled machine. Their daughter, now 6, began school in Carthage, Ill., and Carroll has worked meticulously to make sure he can manage the farm from a distance.

Carroll always knew he wanted to farm. "I would not consider another option," he says. Prior to graduating college, Carroll knew opportunity existed in Brazil. He and his soon-to-be bride visited the town where they would live during Christmas break of their senior year.

Then in May, they graduated college, married and packed their bags to honeymoon in Brazil—for eight years.

Carroll originally planned on primarily growing soybeans. However, after being down there, he recognized cotton was the best fit, even though he knew nothing about it. Carroll likens cotton production to that of raising hogs. "It's very management intensive," he says.

In 2009, Carroll Farms Brazil had 22 full-time crop scouts. "You might spray a field 15-18 times," he says. "This means throughout a season, you might go over a field 25 times."

It was a hard lesson, but Carroll now knows cotton is not a forgiving crop. "The only way to bale yourself out of a bad cotton crop is a good one the following year," he says. "It's a perennial crop that we try to make an annual."

When John and Kelly first moved to Luis Eduardo Magalhães, its population was 20,000. Now the population is 63,000. They've watched it grow and have grown their family. They have a 3-year-old son, Ian, and a 6-year-old daughter, Audra. "Everyone is in the same boat," Kelly explains. "We are all trying to make it a home in the middle of nowhere."
Carroll Family At a Glance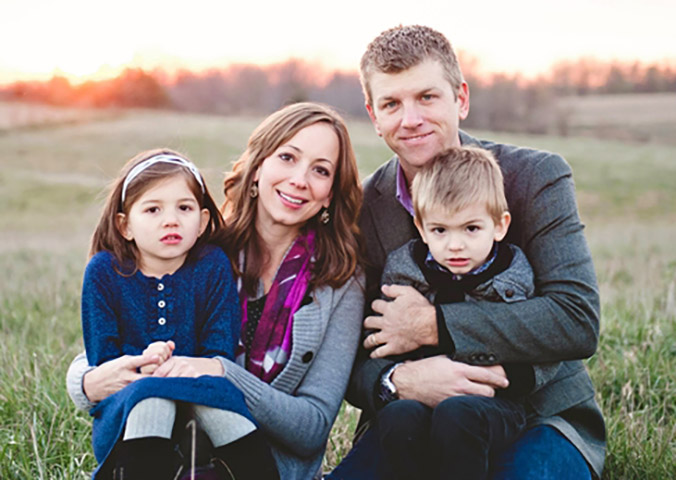 The Carroll Family splits their time between farms in Illinois and Brazil, making the best of both. 
---
Operation: John and his wife, Kelly, operate and partly own a 30,000-acre farm in Luis Eduardo Magalhães, Bahia, Brazil, of which 20,000 acres are cotton, 6,000 acres are soybeans and 4,000 acres are corn. They have two children, Audra and Ian.

Business Structure: Carroll serves as CEO of Carroll Farms Brazil and is responsible for all aspects of the business. While Carroll's uncle, aunts and grandparents are passive investors, his father, Dan Carroll, is an active investor helping with some of the operations. The farm is structured as an LLC with 100% of their income derived from the farm.

Community Minded: Farm Safety Week is an annual occurrence at the Carroll's farm in Brazil. Throughout the week, employees participate in safety training that pertains to each of the tasks employees perform. Employees from neighboring farms are also invited to come and listen to the safety experts and watch demonstrations. The week concludes with fun, games and a cookout.