To stay competitive for farm employees, producers are boosting benefits
The experience of Mark and Laurie Diederichs illustrates the metamorphosis agriculture has undergone and how the successful producer of today must be a top-flight employee manager.

Eight years ago, the Malone, Wis., producers were managing 150 cows on their own. Today, after a massive expansion to 3,100 cows with six partners to create Lake Breeze Dairy, Mark is general manager of that dairy plus another 450-cow herd nearby, and Laurie is office manager.

The Diederichses now employ 35 people at Lake Breeze and another seven at Pine Breeze Dairy. They have not only gone from managing cows to people but also to managing people who manage employees. Complicating things further, many of their workers speak a language in which they are not conversant.

"We've changed how we managed employees, even within the past year," Mark Diederichs says. "A year ago, we didn't offer a 401k or health insurance, but now we do. Potential employees said other places offer these benefits. We felt we had to offer them to remain competitive."

Diederichs uses a team approach, grouping several workers to specialize in a specific task. For instance, the dairy has teams for milking; health and reproductive; calving and transition; feeding; and maintenance. The team approach boosts overall work quality, and workers on the teams can learn from others and increase productivity.
Language Barrier. One challenge for Diederichs is the language bar-rier. All but 10 of his employees at Lake Breeze Dairy are Spanish-speaking Hispanics, and he doesn't speak the language. He communicates instructions to them via his bilingual parlor manager. Diederichs has found he often can show Spanish-speaking workers instructions when needed, rather than tell them. In addition, more and more of his Hispanic employees speak and understand some English.

"My employee management philosophy is to hire the attitude and teach the skill," Diederichs says. "We look for people who are upbeat, with an openness to improve and learn." An employee handbook spells out protocols that are applicable to all new workers. Diederichs also stresses to workers his concept of excellence: "Things done right every day."
The International Solution. For grain farmers in particular, the No. 1 labor issue by far is simply finding workers. To solve that problem, North Dakota wheat producer Jay Elkin has gone global.
With the energy industry taking off in western North Dakota, Elkin lost employees who had been with him for 20 years. They were happy, but they had opportunities that paid far better. In the oil fields, truck drivers make $100,000 per year.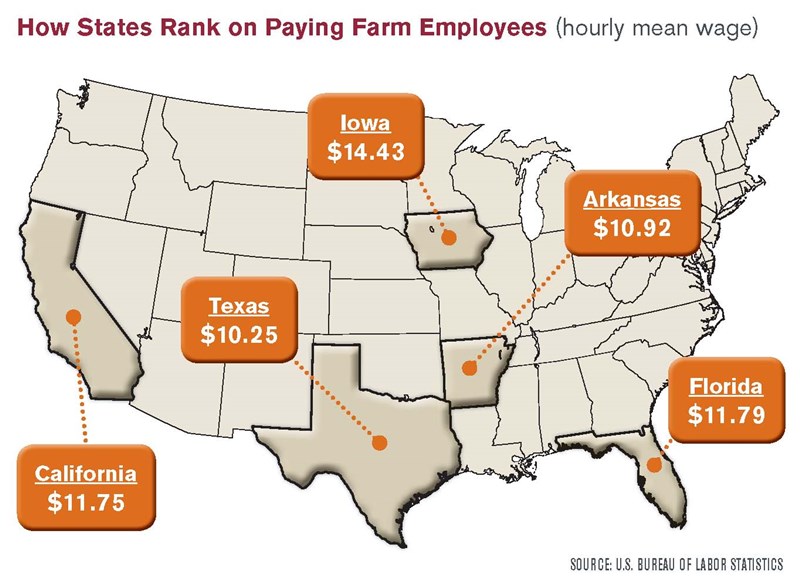 "No way can I compete," says Elkin, who farms near Taylor, N.D. Even the oil fields have 1,000 job openings they haven't filled, which leaves farmers, grain elevators and other businesses scrambling.

Elkin has turned to a unique solution: international workers located through Employment USA, an Aberdeen, S.D., company with agents worldwide. For the third season, Elkin is using South African workers. He pays an agency fee, the round-trip air fare for employees, housing and transportation to work.

"It's a good deal for us and a good deal for them," Elkin says. In South Africa, farmworkers are paid $1.10 per hour (U.S. equivalent), while Elkin pays $16 per hour, or $45,000 to $50,000 for an entire season, factoring in all the long hours put in during the summer.

"Most people we're finding have a background in ag," Elkin says. The South African workers are technologically savvy, but training is quite extensive and intensive. The biggest training challenge is accustoming workers to the massive scale of North Dakota farming and equipment; only small tractors and equipment are used on the grape and olive farms the workers grew up on.

The adjustment is a relatively quick one, however, because the skill level of the South Africans is high and they have a good work ethic, Elkin says.

"Without foreign workers, we'd either have to reduce the size of our operation or get out," he adds, pointing to the seriousness of the labor shortage in his area.
You Better Keep Them. Brad Heffington of Littlefield, Texas, puts a premium on maintaining his current workforce of three employees due to the challenge of finding and the cost of training new ones. He's been fortunate. His labor force has been reduced in recent years due to technology, and some workers on his irrigated cotton farm have been with him for more than 20 years.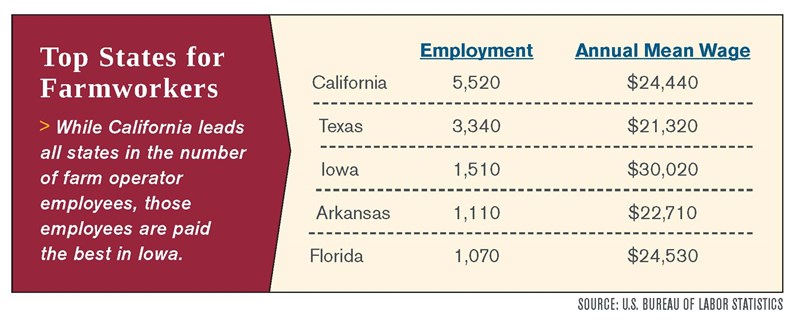 He stresses the importance of workers with the requisite high-tech skills. "I tend to pay the top of the market in the area. If you have good employees, you'd better keep them."

Among states with the highest farm operator employment, Iowa's wages were the highest in 2010 at $14.43 (mean wage), while Texas was the lowest at $10.25.

Skilled employees are difficult to find, Heffington notes. In part, that's because farming has become so incredibly technical—from driving tractors and combines to operating highly automated irrigation equipment. Growing up on a farm is no longer the proper background in and of itself for being a good farmworker, he explains.

To help bridge the gap in the number of technically trained farm employees needed in agriculture, Heffington is on a committee to establish a curriculum for farmworkers at South Plains College, a community college in Levelland, Texas.
Farm Labor Internships. Doug Holliday, who operates a corn, soybean and cow–calf operation near Greenfield, Iowa, prefers hiring employees who come with commensurate skills, rather than those who need training. "You have to pay a competitive price in the marketplace," Holliday acknowledges. One of his current employees developed his technical skills by operating a sprayer and other equipment while working for a co-op. Holliday presently has one to two full-time workers, as well as seasonal help.

One development that has proved to be not only a good source of employees but also a good experience for those employees has been farm labor internships, in which Holliday works with a community college. Some interns have stayed to work for him during the summer.

"It has to be someone who likes agriculture and irregular hours," Holliday says. "During spring and harvest, there are a lot of hours." That can be an adjustment, particularly for young workers.

One challenge many farmers have with younger employees is taking the time to train them, especially workers who might not have grown up on a farm, says Melissa O'Rourke, farm management specialist with Iowa State University. Farmers are not trained to educate workers, and might not have developed those training skills, she adds.

That's why it's important that farm managers conduct performance reviews with employees. Yet this, too, can be virgin territory. Numerous sources of information, such as university workshops and written mate-rials, are available to producers who want to boost their skills in this area.

"When employees leave a farm, it's rarely about money," O'Rourke says. "It instead is related to job satisfaction, fulfillment and the opportunity for growth."