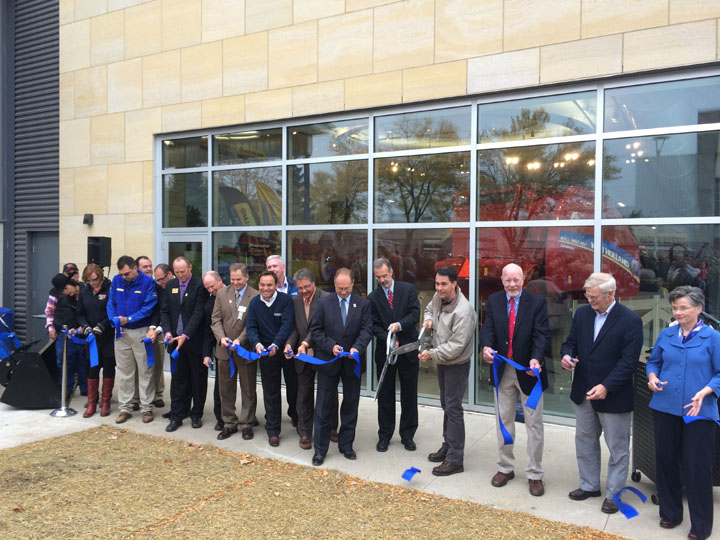 Dignitaries, including Wisconsin Gov. Scott Walker, salute new $24 million project and the dairy industry.
Wisconsin pride took center stage today as some 200 people gathered at the Alliant Energy Center in Madison, Wis., to celebrate the opening of the $24 million New Holland Pavilions.
Undimmed by brisk temperatures and cloudy skies, the upbeat ribbon-cutting ceremony took place on opening day of the 48th annual World Dairy Expo. It drew state and local dignitaries, including Gov. Scott Walker and Dane County Executive Joe Parisi. All applauded what they called a great and historic day for Wisconsin, agriculture and the dairy industry.
"This was a no-brainer for us," Gov. Scott Walker told the crowd gathered outside the sharp-angled, window-paneled Pavilion 1. "There's no place better than America's Dairyland for World Dairy Expo."
Over the years, other states have tried to woo World Dairy Expo away from the Alliant Energy Center, pointing to its aging barns. But Expo officials reached out to local and state agencies and business partners to keep the dairy cattle and trade show in Madison.

"People have been dreaming about this for years," Parisi said. He said it took "a true shared vision" of many to bring the pavilions project across the finish line. "I want to start with thanking World Dairy Expo, which has grown beyond anyone's wildest dreams."
Scott Bentley, Expo's general manager, said he was pleased that World Dairy Expo was the first event to use the pavilions, since the cattle and trade show is the longest-running event on the Alliant Energy grounds. "The New Holland Pavilions represent an exciting new chapter for World Dairy Expo," said Bentley. "They're a testament to the visionary leadership of World Dairy Expo leadership, exhibitors, board members past and present, and staff."
The new facility spans nearly 300,000 square feet and includes space to house 2,600 animals participating in Expo's cattle shows. (Photo: Wyatt Bechtel)
Construction of the new facilities was completed in less than 30 weeks. Comprised of two pavilions, the buildings span 7 acres – or nearly 300,000 square feet. The multi-use facilities provide space for 2,600 animals participating in Expo's cattle shows. They also include pre-function space, concessions, restrooms with showers, livestock stalls, wash bays and a BouMatic milking parlor. The new facilities replace nine barns that were built on the grounds over the past four decades.
Naming rights for the new pavilions went to New Holland for $1 million. Other partners in funding the project included Dane County, the State of Wisconsin, World Dairy Expo, Midwest Horse Fair/Wisconsin Horse Council, Centerplate and BouMatic.
"It is a great day for agriculture in Wisconsin and a great day for New Holland Agriculture and Construction,"  said Abe Hughes, vice president of New Holland-North America. He saluted the private-public partnership that made the project possible, and said the investment was about the future of agriculture's people and animals.
Speaker Ben Brancel, Wisconsin secretary of agriculture, pointed out that the state's dairy industry contributes $43.4 billion in economic activity. In all, Wisconsin agriculture generates $88 billion in economic activity, Walker said.
World Dairy Expo expects to draw 70,000 visitors this week.