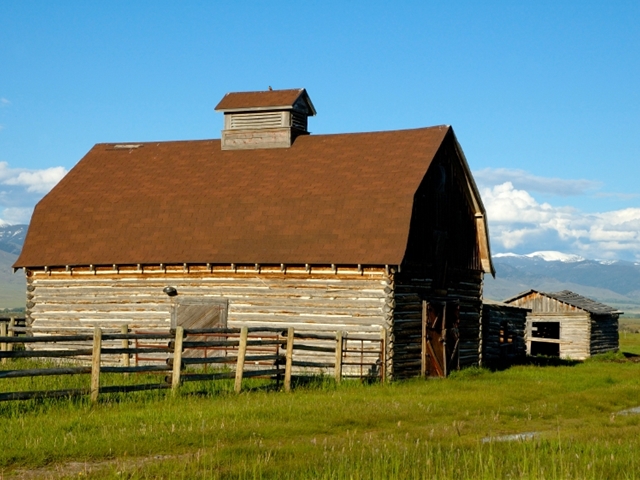 At a glance, the old Davidson barn looks like a ruin, a spacious shed recalling a former agricultural glory whose floorboards you might be wary of trusting with a step.
Upon closer examination, the structure's integrity is unquestionable, the giant wooden beams quiet and motionless despite the whipping winds blowing through the gaps in the walls and standing for the better part of two centuries.
The Davidson barn originally served diverse purposes ranging from housing horses and cattle to the site where the founding members of the Eureka Christian Church held their first meetings, a vision that a group of supporters has been working for nearly 10 years to restore.
That vision was affirmed last week when the Eureka City Council approved a proposal to deconstruct, restore and rebuild the barn on city property to serve as a historic site and community center.
Kathy Whitson, a member of the board of directors of the not-for-profit organization Barnstorming Inc., said the barn will be a "priceless" addition to Eureka.
"It's a full circle kind of vision, bringing the barn back into community use," Whitson said. "It's just too rich of history to let evaporate."
Constructed in 1839 without anything resembling modern machinery, the structure was built without nails — the massive wooden beams held together by wooden pins and pegs. Thirty- and 40-foot white oak trees were likely hauled to a saw mill, trimmed, and returned to be assembled.
"You probably got all the neighbors together pushing with ropes and horses pulling," said Steve Colburn, a descendant of the Davidson family who's spearheaded the restoration effort. "You can image what it must have been like."
Colburn is one the leaders who's taken up the charge to restore the 175-year-old barn and formed Barnstorming Inc. to give the unique structure new life.
The wide, open space that occupies most of the barn's top level was once used for threshing wheat, with draft horses powering the machines.
"We envision this area for weddings, receptions, reunions, that kind of thing. It's a nice, big space," said Karen Fyke of the Woodford County Historical Society who also serves on Barnstorming's board.
The barn, supporters say, represents Eureka's rich history in many ways, serving as a community center for some of the area's earliest settlers and storied past.
Once, interviews with previous residents show, the barn narrowly escaped destruction when a tornado passed between the barn and farmhouse. Also, after one of the early owners caught a thief stealing cattle, he enlisted a young lawyer named Abraham Lincoln to help him collect $17 in damages.
We figure his horse slept here," Fyke said.
Several locations within Eureka are being considered as the permanent home of the Davidson barn. Organizers hope they can begin as early as next year deconstructing and restoring the building.--Laura Nightengale, (Peoria) Journal Star