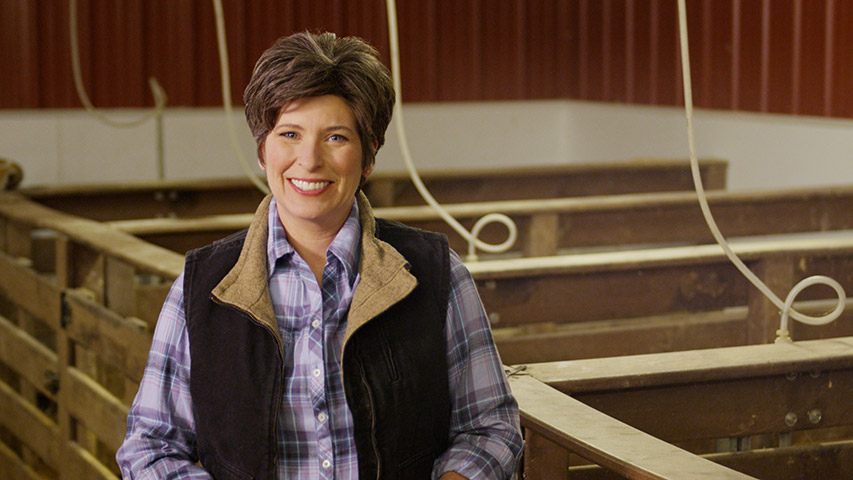 If Iowa men have any queasiness about Joni Ernst's experience with castration, it's not reflected in polls.
Ernst, a Republican running for a U.S. Senate seat who gelded hogs on her family farm, leads among men, 56 percent to 39 percent, in a survey released today by Quinnipiac University.
That 17-point advantage is helping her gain a lead over Democrat Bruce Braley, 50 percent to 44 percent, in one of the nation's most closely watched U.S. Senate races. Republicans need a net gain of six seats in November's election to gain control of the Senate, and the Iowa race is one of about a dozen in which the parties are fighting it out.
Braley, a U.S. House member trying to hold retiring Senator Tom Harkin's seat in Democratic hands, has a 6-point edge among likely women voters.
Ernst made national headlines during her Republican primary campaign earlier this year for an ad that touted her hog castration skills growing up on an Iowa farm. The state senator suggested such skills would help her cut "pork" in Washington.
"Ernst's television commercials and campaign have presented her as a born and bred Iowan, who never lost her farm girl values," Peter A. Brown, assistant director of the Hamden, Connecticut-based poll, said in a statement. "Some pundits back East may have made fun of her shooting hog ads, but they send an effective message to Iowans that she is one of them."
Ernst, who is seeking to become the first woman sent to either chamber of Congress from Iowa, leads 50 percent to 43 percent among independent voters.
"The tale of independent voters tells you all you need to know about the Iowa Senate race," Brown said. "The key to any comeback by U.S. Representative Bruce Braley will be chipping away at her lead among independents."
The survey, with a margin of error of plus or minus 2.9 percentage points, was taken Sept. 10-15 and included 1,167 likely voters.