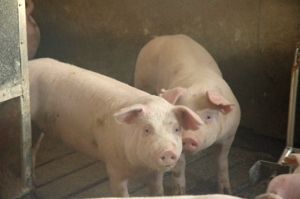 Hog futures fell by the exchange limit to the lowest since February on signs that the spread of the deadly pig virus that boosted U.S. pork costs is slowing.
The decline signals relief for meat eaters, who have been paying record prices for pork chops and bacon in 2014. Hog futures that rallied as much as 56 percent this year to an all- time high in March have since fallen 25 percent.
The 2014 rally was driven by the spread of the porcine epidemic diarrhea virus that may have killed as many as 8 million hogs. New cases of the disease have slowed as temperatures warmed in the U.S., according to government data.
"The PED losses were overdone, and the trade is thinking we're past" the worst of the supply impact, Paul Beere, a market adviser at Brookfield, Wisconsin-based Prime Agricultural Consultants Inc., said in a telephone interview.
Hog futures for October settlement declined 1.9 percent to close at $1.0025 a pound on the Chicago Mercantile Exchange, after earlier slumping by the 3-cent limit to 99.2 cents, the lowest since Feb. 25. Prices touched a record $1.33425 in March.
In July, 332 cases of PED were reported, the fewest since October and down from the peak of 1,228 in February, data published by the U.S. Department of Agriculture on July 31 show. More than 7,800 cases were reported since the outbreak began in 2013 and spread to 30 states.
Demand will also probably start to weaken as the U.S. summer-grilling season draws to an end. Retail pork chops reached a record $4.106 a pound in May. The cost of the meat eased to $4.024 last month, government data show. Bacon climbed to an all-time high of $6.106 in June, the latest figures show.
Also on the CME, cattle futures for October delivery fell 1.9 percent to $1.53 a pound, after earlier dropping by the exchange limit of 3 cents to $1.5295, the lowest since July 18. Feeder-cattle futures for September settlement declined 1.4 percent to $2.17725 a pound.