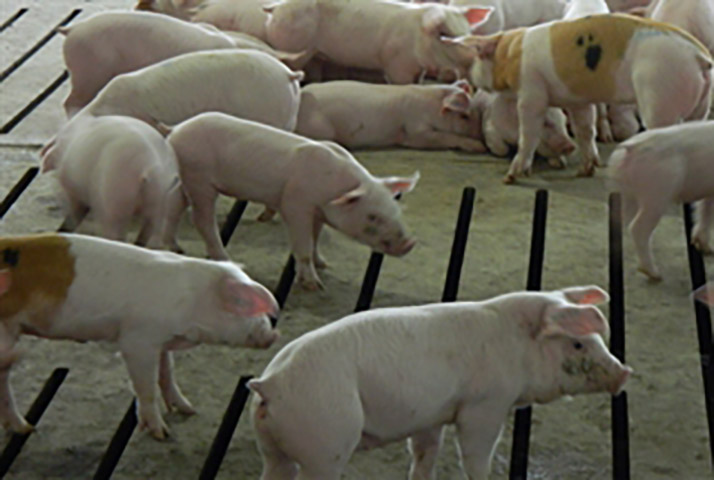 Hog prices slumped to a nine-month low as supply concerns eased and record-high costs for pork chops and bacon eroded prospects for demand.
On the Chicago Mercantile Exchange, hog futures for December settlement fell 1.7 percent to close at 90.325 cents a pound at 1:15 p.m. Earlier, the price touched 89.85 cents, the lowest for a most-active contract since Jan. 7. Yesterday, the commodity tumbled the most in 25 months.
High pork prices "have tended to strangle short-term demand once again," said Dan Vaught, an economist at Doane Advisory Services in St. Louis. "The number of hogs coming to market usually increases pretty substantially during the fourth quarter."
This year, hog futures rose as much as 56 percent to a record in March as a deadly pig virus killed millions of animals. Through today, the price gained 5.7 percent in 2014. The U.S. herd, at an eight-year low on March 1, rebounded 6.1 percent in the three months ended Sept. 1, the largest gain since 1991, government data showed.
"This time of year is always kind of a perfect negative storm for the hog market," Vaught said in a telephone interview. Grilling season is "well and truly over," he said.
Hogs have slumped 32 percent from the record $1.33425 on March 18. Prices will average 80.11 cents in 2015, down from $1.0289 this year, Societe Generale SA said in a Sept. 12 report.
Pork Production
U.S. pork output will gain 5.1 percent to 23.94 million pounds next year, the USDA said in an Oct. 10 report.
Increasing hog output may help to temper rising meat costs. Consumer pork prices are expected to jump 7.5 percent to 8.5 percent this year, the largest gain of any food group after beef, the U.S. Department of Agriculture forecasts.
Retail costs for pork chops rose to a record $4.172 a pound in August, and bacon climbed an all-time high in June, government data show.
Through yesterday, wholesale pork slumped for seven straight sessions, the longest slump in seven weeks, to $1.1699 a pound. The price has declined 15 percent from a record $1.3756 on July 18.
The global pork market "will likely cool down" this quarter, Rabobank said this week in a report. Producer profit margins in the U.S. probably will average $31 per head next year, triple the historical average, as bumper corn and soybean crops keep feed costs low, giving producers an incentive to expand, the bank said.
Deadly Virus
In the week ended Oct. 11, 61 new cases of the porcine epidemic diarrhea virus were reported, one-fifth of the peak of weekly cases reported in February, National Animal Health Laboratory Network data show.
Economic concerns may be contributing to the slump in the hog market with the outlook for demand appearing "a little shaky," Rich Nelson, the chief strategist at Allendale Inc. in McHenry, Illinois, said in a telephone interview.
Yesterday, the Standard & Poor's 500 Index of equities fell to the lowest since April, partly on global economic concerns. U.S. retail sales for all goods in September dropped more than forecast, government data showed.
"The market has finally realized that we are seeing the supplies increase as forecast," Nelson said. "At the same time, we have these renewed concerns about demand."
Yesterday, hogs tumbled by the exchange limit of 3 cents, or 3.2 percent, the most since Aug. 22, 2012.
Cattle futures for December delivery rose 1.7 percent to $1.653 a pound. Feeder-cattle futures for November settlement climbed by the 3-cent exchange limit, or 1.3 percent, to $2.3715 a pound.