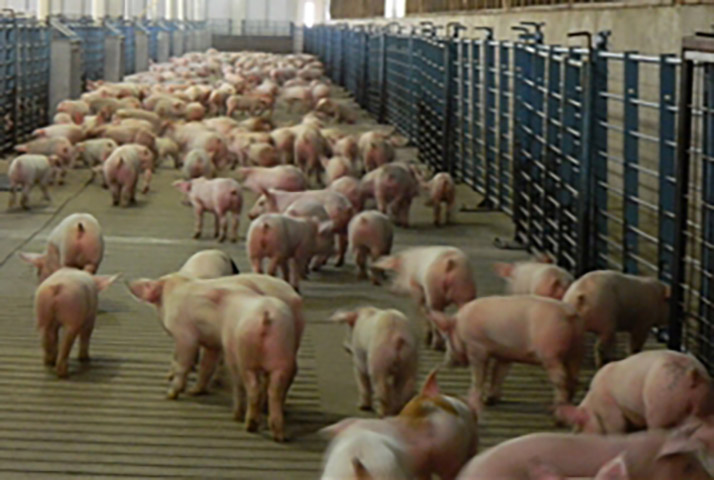 Two years ago, Iowa farmer Bill Tentinger considered quitting the hog business he began in 1969 as surging grain costs led to losses. Now, profits are the highest ever, and he is about to boost output to a record.
"Why not take advantage of that to help heal up some of the wounds in the past?" Tentinger, 65, said by telephone from Le Mars, Iowa. With pork prices near records and corn feed tumbling below $3 a bushel from $7.50 in 2012, Tentinger plans to boost annual pig output by 50 percent to 24,000 from 16,000.
The U.S. hog herd, at an eight-year low on March 1, rose in the three months ended Sept. 1 by the most since 1991, government data show. After two years of losing money, hog producers are getting a boost from record corn and soybean harvests just as tight meat supplies send pork and bacon prices to all-time highs and erode profit for buyers including Hormel Foods Corp. and Cracker Barrel Old Country Store Inc.
Cheaper grain, which accounts for about two-thirds of the cost to raise a pig for slaughter, will boost profit margins in Iowa, the top producer, to more than $56 per hog this year, the highest in at least four decades, after losses averaging $9 a head in 2013 and $12 in 2012, Paragon Economics estimates. That will spur expansion as domestic pork output in 2015 reaches a seven-year high, the U.S. Department of Agriculture said.
"Pork is going to be a better buy for consumers in 2015, without a doubt," said Steve Meyer, the president of Adel, Iowa-based Paragon. "Costs are back to a more reasonable level. That's more encouraging to growth over time."
Lower Prices
Hog futures that are down 29 percent from a record in March will drop further in 2015, Societe Generale SA analysts said in a Sept. 12 report. The bank forecast an average next year of 80.11 cents a pound on the Chicago Mercantile Exchange, or 16 percent less than yesterday's close at 94.875 cents.
Prices rallied as much as 56 percent this year to $1.33425 on March 18 as the deadly porcine epidemic diarrhea virus spread through the U.S. herd. Since then, the number of new cases has slowed and the USDA granted conditional licenses for vaccines from Harrisvaccines and Zoetis Inc. Incidences of PED probably will "slowly wane over time," Societe Generale said.
The U.S. hog herd totaled 65.361 million head on Sept. 1, up 6.1 percent from June 1, the USDA said on Sept. 26. The breeding herd rose to 5.92 million, the highest since 2009. Pork output will rise 2.4 percent next year to 23.338 billion pounds, halting a two-year slide, the USDA estimates.
"There will be an incentive for pork production to increase," Donald J. Smith, president and chief executive officer of Springdale, Arkansas-based Tyson Foods Inc., the largest U.S. meat producer, said in a Sept. 4 presentation.
Cheap Grain
Corn plunged to a five-year low yesterday and soybeans are the cheapest since 2010 as U.S. farmers start collecting the biggest crops ever. Soybean meal, used as feed, is down about 41 percent since June 2 on the Chicago Board of Trade.
Because hogs take about six months to reach slaughter weight, cheaper feed reduces costs just as meat prices are surging. Hogs sold for immediate delivery to slaughtering plants are up 36 percent this year at $1.0552 a pound, and wholesale pork prices rose 45 percent to $1.2198 a pound, USDA data show.
Profit margins for hog producers will average $56.68 per head this year, Paragon's Meyer estimates, a record for Iowa State University data going back four decades. While profit will drop in 2015 to $41.24, that would be the second-highest ever after losses in four of the past six years, he said.
Virus Risk
The return of the PED virus could tighten supplies, according to Ron Plain, a livestock economist at the University of Missouri in Columbia. About 8 million pigs have been killed by the disease since its arrival in mid-2013, Paragon estimates.
The virus survives better in colder weather, and it doesn't take much contact for piglets to become infected, said Harry Snelson, director of communications for the Perry, Iowa-based American Association of Swine Veterinarians.
"The drop in incidence over the summer is certainly welcome and not unexpected," Paul Sundberg, vice president of science and technology for the National Pork Board in Des Moines, said in a Aug. 28 telephone interview. "It is realistic to expect that this virus will show back up this fall and winter. The optimist view is it will stay low. We don't know if there's any one thing that's going to cure this."
Rising Demand
Demand for meat remains strong. More than half of U.S. adults surveyed say they are looking to add more protein to their diets, according to a March study from Port Washington, New York-based NPD Group. Pork-chop prices climbed to a record $4.172 a pound in August, and bacon touched an all-time high of $6.106 a pound in June, Bureau of Labor Statistics data show.
Large grain crops probably will suppress prices for at least another year, a boon to livestock producers, said Daniel Bluntzer, research director at Frontier Risk Management in Robstown, Texas. He expects year-over-year increases in the hog- breeding herd of as much as 2.5 percent for the next four quarters.
Industrywide expansion will "be slow, but it's going to be noticeable," said Tentinger, the hog farmer, who also grows 2,000 acres of corn and soybeans. "In this livestock business, you have to look long-term. You have to remain optimistic because, down the road, things are going to improve."