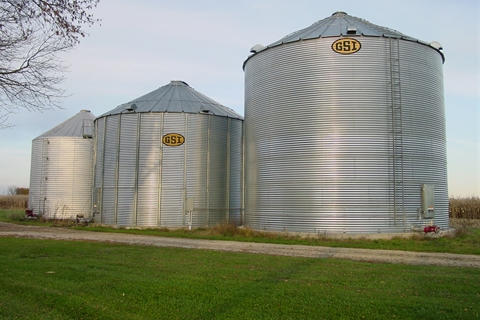 Many producers have chosen a sales strategy for 2014 unpriced crops of storing in hopes of better prices this winter and next spring. While historical averages seem to favor holding crops for price increases later on, applying averages to this marketing year is a dangerous marketing proposition, says Ed Usset, University of Minnesota grain marketing economist. For corn, soybeans and wheat, he favors selling the carry in the market now, because of significant risk that prices may not be higher several months from now.

"Storing this fall is a popular strategy," acknowledges Usset, and in most years, it would prove successful. In an average year, odds of a cash corn price increase after harvest are 75%. "But this is not an average year, so odds of a cash price increase after harvest are only 35%," he said September 11 at the Minnesota Crop Insurance Conference.

On September 3, closing prices for December corn 2014 futures were $3.52/bu. Cash prices—minus Minnesota basis of 60 cents—provides harvest cash prices of $2.92/bu. July 2015 futures were $3.80, so assuming basis of 40 cents next summer, the result would be cash prices of $3.40—or 48 cents higher than present harvest prices. Usset advocates selling that carry in the market now with either futures or hedge-to-arrive contracts, to capture the higher price of the deferred July contact.

Rather than move higher between now and next year, the July contract might actually soften. That's because carryover is expected to reach more than 2 billion bushels on record production and yields, and why Usset gives a price rise high enough to pay for storage—price increases happen at all—such relatively low odds.

Usset notes that since 1990, May corn prices were higher than the previous October in 18 of 24 years. The exceptions to that were nearly all years when ending stocks increased more than two weeks usage from the previous year (1992, 1994, 1996, 1997 and 2004), or in today's numbers, 600 million bushels of corn. Those years also had crop condition ratings more like this year. Usset believes 2014 has more in common with these five years, not the all-years' average. Moreover, in three years, prices were lower in spring than harvest. The notable exception was the 1994/95 marketing year when China came into the market in major way for the first time. "A lot of people are waiting for $4 corn," he notes, but that might not happen.

"We can't make unpriced production profitable," Usset acknowledges, "but producers have an opportunity to sell July that might provide an extra 30 to 50 cents, depending on basis. If a producer can get $3.40 that's better than $3," he says. "We're playing defense. Sell the carry and hope like heck for better opportunities in 2015."

Usset advocates similar strategies for soybeans and wheat, which also are facing large surpluses. Prices have hit life of contract lows for all three crops. The reason why is not demand, which is very strong, but large supplies that are increasing stocks to the highest level in seven years, he says. "Crop conditions as of September 5 were as good as they have ever been."

For soybeans since 1990, the price in May was higher than the previous October in 19 of 24 years. The exceptions were 1990, 1998 and 2005, years when ending stocks increased more than two weeks of usage from the previous year. Usset notes that looking at U.S. soybean growing conditions, this year's crop index is better than the average of those four years.

The price of North Dakota spring wheat prices was higher than the previous August in 15 of 24 years, the exceptions being 1993, 1996, 1997, 2001 and 2009, when ending stocks increased more than two weeks usage from the previous year.