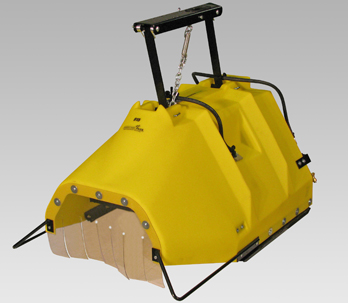 They're back… Several years ago hooded sprayers got tossed into fence rows and stacked behind machine sheds when Roundup Ready Flex cotton made them all but obsolete. Now the devices are getting a new look from southern resistance weed fighters.
At the root of the new interest is difficult to control herbicide resistant Palmer amaranth, better known as pigweed.  Willmar Fabrications, Willmar, Minn., has designed an all new spray hood to control weeds that escape a residual herbicide program.
Growers attending Monsanto's Grain and Fiber Summit in Memphis last month got a look at the new 915 Hooded Sprayer. Steve Claussen, president of Willmar Fabrications, says farmers across the south actually helped shape the new design, which allows for application of herbicides in the row middles to control escaped weeds and post-directs another herbicide in the row itself.
Compared to older-model hoods, the Model 915 covers 83% of the row width—providing wider spray coverage in a new, slimmer hood profile. An open front allows weeds to enter the hood and provides improved spray coverage. The sloped shape of the hood front permits crops limbs to flow around the hood body, reducing the chance of fruit damage. Weed gathering bars are now ½ inch thick for added durability.
Nozzles are spaced front to back and side to side for maximum weed coverage. Three nozzles offer even coverage while front and rear curtains maximize chemical containment. The nozzle retention plate is attached to the hood with molded-in nuts to increase durability and ease of access.
The new hood is approximately one foot longer and this allows weeds to remain in the spray pattern longer. The new hood can be used both early and at layby. Claussen says the increased down pressure of the 915 model lets drivers operate a little faster than with previous models.
Hoods can be ordered with a post-direct spray attachment kit. The new hoods weigh about five pounds more than the 410 model.
---