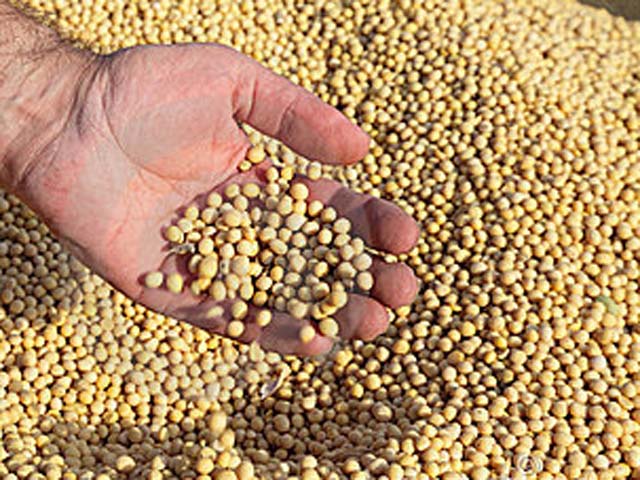 Soybeans are quickly becoming the hottest trade in the agriculture world.
Trading volume and open interest, or the number of outstanding contracts held, reached all-time highs for futures last week on the Chicago Board of Trade, exchange data show. Investors are diving into the commodity, sending bets on a rally to the highest since June 2014.
The excitement comes amid signs of shrinking production in South America and forecasts for a La Nina pattern this year, which further threatens supplies with unfavorable U.S. weather. Adding to the positive outlook are signs of increasing demand in China, the world's top importer. Soybean futures jumped 5.2 percent last week, the most since October. The optimism for prices marks a decisive shift from just five weeks ago, when money managers were net-short on the oilseed, or wagering on declines.
"As soon as fundamentals gradually started to change, funds started to get out of shorts and got long soybeans because they have the potential to move the most," said Don Roose, the president of U.S. Commodities Inc. in West Des Moines, Iowa.
Prices Climb
Soybean futures for July delivery rose 0.5 percent to $9.695 a bushel at 11:02 a.m. on the CBOT, after touching $9.7275, the highest since August. Prices are up 13 percent since March 1. Money managers increased their net-bullish position by 36 percent to 100,216 futures and options as of April 12, government data show. That compares with a net-short position of 42,906 on March 8.
A La Nina weather event may develop as early as July as colder waters move into the equatorial Pacific Ocean, the US. Climate Prediction Center said April 14, confirming a similar forecast last week by the Australian Bureau of Meteorology. Warm temperatures and patchy drought in the U.S. follows the transition to a La Nina, according to forecaster MDA Information Systems Inc. Drought in Brazil trimmed production, while flooding hampered soybean deliveries to Argentina ports.
Optimism for demand is dominating the markets after China's imports jumped 36 percent in March from a year earlier to 6.1 million metric tons, the highest ever for the month. American farmers are benefiting from the resurgence in demand as declines for the dollar against Brazil's currency make their supplies more competitively priced. Sales of U.S. soybeans exceeded the prior five-year average for five straight weeks.
With volatility still less than half of 2012 peak, the recent price rally is vulnerable to a "huge correction," Roose said. Still, that's unlikely to happen "until the supply risks subside," he said by telephone April 15.