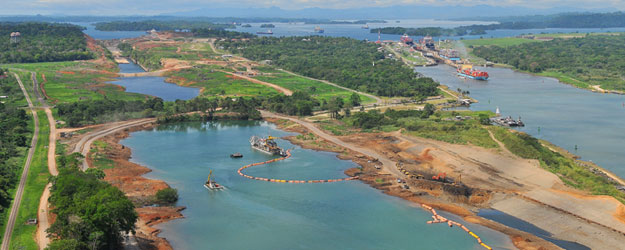 The U.S. House passed a $12.3 billion water-projects bill that lawmakers said would boost dredging to accommodate larger ships built to transit the expanding Panama Canal.
The measure, passed 412-4, would be the first water infrastructure bill enacted since 2007. It would authorize 34 projects including dredging, flood control, hurricane recovery and environmental restoration.
The Water Resources Reform and Development Act, H.R. 3080, would revamp the way major U.S. shipping projects are funded. The bill would allow ports to pay the cost of deepening harbors up front and then seek reimbursement from the government once a project is authorized by lawmakers. That could help facilities such as Port Everglades in South Florida reduce construction time by years.
"It is a jobs bill," House Transportation and Infrastructure Chairman Bill Shuster told reporters. In addition to construction jobs, the Pennsylvania Republican said, "when America invests in its infrastructure and keeps us competitive, that means our industry and business can be competitive and add jobs on the factory floor."
The measure would expand the number of U.S. ports that can handle super freighters built by Maersk Inc. and Mediterranean Shipping Co. to take advantage of the expanding Panama Canal. Expanded capacity would reduce shipping costs for exporters including Caterpillar Inc. and Cargill Inc.
'No' Votes
All four House lawmakers voting against the measure were Republicans: Justin Amash of Michigan, Louie Gohmert of Texas, Tim Huelskamp of Kansas and Matt Salmon of Arizona.
The bill was the subject of a lobbying campaign that industry groups said they want to make a model for future infrastructure bills. Shipping industry groups targeted Tea Party lawmakers by stressing the role of interstate commerce in the Constitution, and emphasizing quotes from founding fathers such as George Washington backing the construction of canals.
Senate Majority Leader Harry Reid,, a Nevada Democrat, has said the Senate will act on the compromise bill this week.
By far the biggest spending project authorized in the measure is $6.7 billion for a Louisiana levee system called Morganza to the Gulf. Other flood-prevention projects in the bill are a diversion channel for the Red River of the North near Fargo, North Dakota, and Moorhead, Minnesota, as well as levees in the Natomas Basin in Sacramento, California.
The largest navigation project would deepen the Sabine- Neches Waterway, which connects the oil-refining hub of Beaumont and Port Arthur, Texas, with the Gulf of Mexico.
Keystone Pipeline
The Port Arthur area is home to the southern end of the Keystone XL pipeline. Deepening the port would reduce shipping costs for oil and natural gas processed there by Exxon Mobil Corp., Total SA and Cheniere Energy Inc.
The measure also would speed environmental reviews of infrastructure plans, capping review time at three years.
The American Farm Bureau Federation urged Congress to pass the bill. Farmers "depend on an efficient and reliable inland waterway system linked to competitive ports," bureau President Bob Stallman said in a statement today.
Environmental groups objected to the limit on review time, and the measure drew opposition from small-government groups including Heritage Action.
'Hikes Spending'
"It hikes spending while doing little to reduce bureaucracy and limit the role of the federal government," Heritage Action spokesman Dan Holler said in an e-mail urging lawmakers to vote against the bill.
Shuster and House Speaker John Boehner said the measure was a success for those who want to trim government. The bill was crafted without earmarks to fund pet projects in lawmakers' home states, they said. It also would delete $18 billion in backlogged projects that, while unlikely to get built, were still technically on government ledgers.
It also would create a Water Infrastructure Finance and Innovation Authority, a federal-private financing program for water infrastructure. About $175 million in subsidies through 2019 may lead to $1.75 billion in projects, Bloomberg Industries analyst Brian Friel said.
JPMorgan Chase & Co. led U.S. project financing for the year to date, underwriting $89 billion in projects through May 20, according to a Bloomberg compilation of data. JPMorgan was followed by Bank of America Corp., Goldman Sachs Group Inc. and Citigroup Inc.
The measure would encourage the use of U.S.-made iron and steel products that could increase demand for products manufactured by Nucor Corp. and United States Steel Corp., Bloomberg analysts Friel and Brad Barker said.