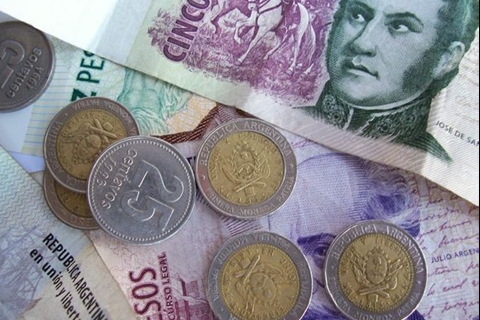 Why should a farmer in the Midwest pay much attention to the results of a South American country's presidential election? Because what happened in Argentina on Sunday is a "game changer," according to market analyst Alan Brugler of Brugler Marketing & Management in Omaha.
"They've had 12 years of very heavy government intervention," he says, from tariffs on wheat and corn that have kept prices low for those grains to currency controls that have resulted in an overvalued Argentine peso.
Those things are likely to change—and relatively soon.  Among other actions, President-elect Mauricio Macri is expected to restructure the country's tariff system, dropping export taxes on corn and wheat and lowering or temporarily lifting the soybean export tax. He is also expected to devalue the inflated Argentine currency.
Such decisions could finally persuade Argentine farmers, sitting on an estimated $8 billion worth of crops, to start selling their stored soybeans and more.
Could this news put even more pressure on soybean prices? Probably not, according to analysts. "The market has been anticipating the victory … for weeks as Macri's popularity grew," says Don Roose of U.S. Commodities in Iowa. "Monday's higher close after making the new contract was a typical 'buy the fact' trade."
(January soybean futures opened at $8.55 on Monday and gained nearly 10 cents to close at just above $8.64.)
"The market has had plenty of time to get used to this idea," Brugler agreed. "I think a lot of it was built into the market already."
While the market may have adjusted to this new reality, though, U.S. growers may still be wondering how this will affect them. Here's what else you need to know.
When might these changes to Argentina's ag exports and currency happen? Not for several weeks at the earliest. Macri was just elected Sunday, so he doesn't yet have the authority to make the changes he's proposed. "He won't be seated until December 10, so nothing can happen until then," Brugler notes.
How soon until Argentine farmers start selling their stockpiles of grain? Again, not right away. Brugler doesn't expect to see much volume from this situation until perhaps January.
How might this Argentine currency devaluation affect the appeal of U.S. exports? "It's a world trading environment," Roose says. "Currency values play a huge role." Right now, of course, that's bad for American farmers, given the strength of the dollar. "South America has a price advantage because they buy in local currencies and sell in U.S. dollars," Roose explains. "This is causing profitability (for South American growers) when U.S. producers are struggling below or at break-evens."
How might these tariff reforms affect planting decisions in Argentina and by extension, the U.S.? "One of the things I keep hearing is that these (Argentine) producers would like to plant more corn," Brugler says, adding that American growers will want to pay attention to their South American counterparts. After all, many analysts also expect U.S. farmers to plant more corn in 2016 as well.  "Corn acres will probably grow 2 million to 4 million acres versus last year and soybean acres could contract mildly," Roose says.
How will this influence the market? Analysts say the market has already incorporated its initial opinion on Macri's election into the latest grain and soy prices. "The thing we have to remember is that the market is not a hockey stick. It doesn't just go somewhere and stay there," Brugler says. "It's more like a pogo stick that bounces around." Could the market bounce higher? Possibly.  "There is a very good potential for a rebound rally in beans," according to Brugler. But it could also slip lower. "Synthetic hedges should be put in place to limit further downside price erosion and allow weather or other rallies to occur," Roose says.
Do American farmers need to worry about the Argentine situation? Not necessarily. "I don't think farmers are in big trouble," says Brugler. "I do think the market psychology is bad out there." If you are one of those growers who are sitting on a record amount of stored grain, though, it might be time to talk with your marketing adviser and update your marketing plan to reflect these new risks.