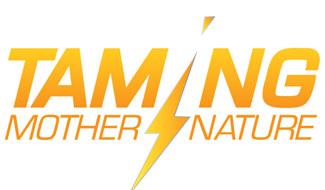 Research shows burning fossil fuels influences heat waves 
Does extreme weather just happen? Or, is human impact on the planet increasing the number and severity of extreme weather events? Scientists have been trying to get to the root of the matter—and have detailed their findings in a report titled "Explaining Extreme Events of 2013 from a Climate Perspective."  

The study looked at several extreme weather events around the world in 2013, including three in the U.S.: the October blizzard in South Dakota, the flooding in Colorado in September, and the ongoing drought in California.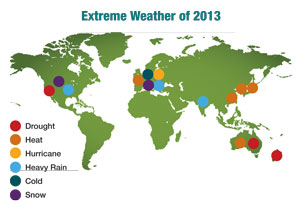 Scientists hope a better understanding of extreme weather events such as these will help them better predict future events.
Based on their findings, the researchers are most convinced of human influence on heat waves, pinning the reason on the burning of fossil fuels. 
Other extreme weather could be chalked up to (bad) luck of the draw. "Natural variability is always a part of any extreme weather and climate  events," says Thomas Karl, director of the National Oceanic and Atmospheric Administration's National Climatic Data Center.

Take, for instance, the early October blizzard in South Dakota that dumped between 20" and 55" of snow. South Dakota State University (SDSU) Extension climatologists, with help from researchers at the University of Idaho Department of Geography and the National Weather Service, wanted to know if they could determine the chances of it happening again.

"It was just an anomaly," says Laura Edwards, SDSU Extension climate field specialist. "This type of early season blizzard is an outlier and is not any more likely to occur in the future due to a changing climate."

This type of storm occurs about once per decade. The early timing of this particular storm was especially devastating, however, as it killed around 45,000 head of livestock and required millions of dollars to clean up.

Meanwhile, the scientists' understanding of how human influence might affect extreme precipitation events around the world was "decidedly mixed." In the end, the researchers concluded seasonal precipitation extremes in the U.S. in 2013 could be primarily attributed to natural variability.
---
Record Heat in Australia
What's the matter with Australia? That's what scientists were asking after 2013 became the hottest year, as well as one of the driest, on record for the Land Down Under.

Five separate studies dove into various components of the record heat, including analyzing the hottest September on record, measuring heat wave frequency and intensity over the past century, and trying to determine whether human activity played a role.

The sobering conclusion of all five research teams was that human emissions helped fuel the record heat.

"When we look at the heat across the whole of Australia and the whole 12 months of 2013, we can say that this was virtually impossible without climate change," says David Karoly, a climate scientist at the University of Melbourne who led one of the research teams.