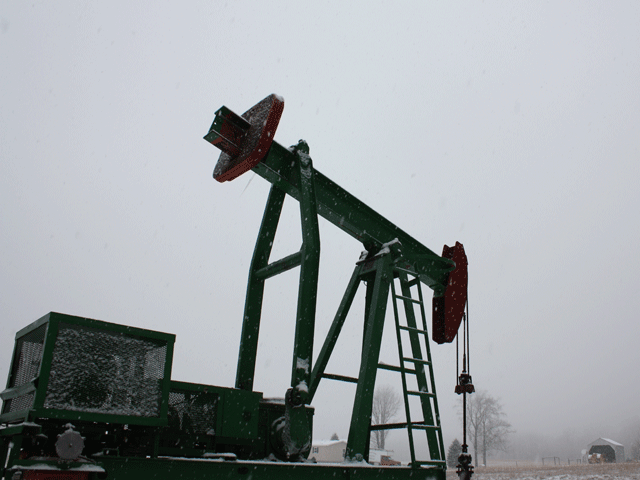 Crude oil closed down again on Monday at $55 a barrel. That's $60 less a barrel than the highest mark this year. One reason oil and gasoline prices are dropping is due to global production levels. Saudi Arabia refuses to cut the amount of oil it's pumping.
Saudi Arabia says it will not stop pumping oil, and some analysts say that does have the potential to hurt the U.S. oil companies.
Watch the full AgDay report:
"OPEC has always been concerned of what's going on in the Dakotas ever since the U.S. passed Saudi Arabia producing more oil. I think that got their attention. There's no question in my mind OPEC is trying to drive the guys out of business or at least curtail that," said Peter Meyer with PIRA Energy Group.
Meyer believes U.S. companies have hedged their oil well. Once those hedges come off and if Saudi Arabia stays competitive, oil exploration in the U.S. could decrease.
"If we fall below $50, we aren't going to see much come out of there. Between $50 and $65, you may see some come out but not to the extent when we were $70," said Meyer.
Crude oil has fallen about 40% this year, dropping prices below the $60 per barrel mark and leaving consumers with a deal at the pump. Meyer says he expects to see oil prices bottom in 2015.
"It's our opinion that the price will stabilize the first quarter of 2015. That's the professional opinion of PIRA. We've been in the business a long time. We were bearish on this break, but now we think the bottom is coming in early 2015," said Meyer.
Once prices do stabilize, he doesn't anticipate a big rally.
"Can we get that lower? Sure. Are we going to skyrocket higher once we get a bottom? I don't think so," said Meyer.
Even though crude oil has dropped dramatically, diesel has hardly moved. Meyer says that's because diesel is more of a seasonal fuel.
"With heating oil, if you look at the curve, it's the cheapest during the summer and most expensive in winter so that's held up diesel prices a little bit," said Meyer.
Overall, when it comes to oil, 2015 may be easier on the wallet, but tough on the oil industry.
"When those hedges come off, which we believe will be the first quarter of 2015, then they will feel the price of $55 oil. At the moment, they're not," said Meyer.
Meyer doesn't anticipate crude oil to rally up to $90 a barrel anytime too soon.