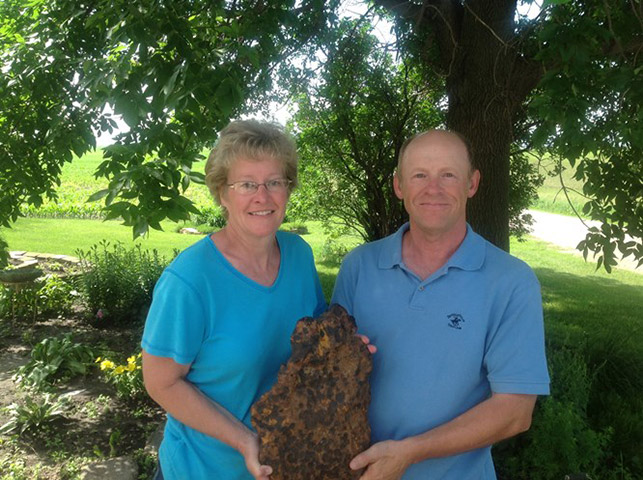 Bruce Lilienthal was driving a tractor and hunting from the cab for a crop he never plants, but always harvests.
Ranging from tiny hunks to an occasional kitchen table-sized beast, rocks break the surface of his land every spring, pushed upward by repeated frosts. On an early May day in 2011, with corn already up, Lilienthal spotted a large rock jutting halfway out of his heavy, black dirt. He got down and dug out a 16" long, 10" wide and 2" thick specimen weighing an unseemly 33 lbs. Unknown to Lilienthal, he'd harvested the single most unique item in his farm's history: a meteorite.
Meteorites range in value from cents per gram to thousands of dollars per gram, and farmland is a sure bet to hold untold numbers. The total is debated, but between 5,000 to 17,000 meteorites pound Earth each year, and 75% are swallowed by the ocean. And the rest? It's fair to say that farmland is home to tens of thousands of meteorites.
Lilienthal normally uses large farm rocks for erosion control on a nearby creek, but the 33-pounder was too odd for rip-rap. It had a rusty tint, was ridiculously heavy … and it clanged. "I've picked untold numbers of rocks from my land, but never one that looked like a burnt pizza," he says. Lilienthal dropped it on the edge of his driveway, in a pile of other unusual rocks destined for his wife Nelva's flower garden, and forgot about it. Nelva didn't.
"It sat there for a couple of years, and people would see it and comment. I made calls and sent pictures, hoping it just might be a meteorite," she says. In the spring of 2013, the Lilienthals sought out Calvin Alexander, curator of meteorites in the earth sciences department at University of Minnesota. He's been offered at least one hopeful specimen a week over his 40-year career and repeatedly disappointed rock hunters. "I've seen thousands of samples, and all but three have been meteor-wrongs," he chuckles. "Yet, the Lilienthals walked in and I was immediately 99.9% sure they had a meteorite. No question."
At 92% iron, 7% nickel, and a 1% mix of sulfur, carbon and other elements, the Lilienthal's meteorite was part of an asteroid, formed 4.5 billion years ago at the dawn of the solar system, essentially a leftover from the same material comprising the sun and the planets. It was pulled in by Earth's gravity and crashed on the Lilienthals' land at between 20,000-50,000 mph, Alexander estimates. "It was probably on their farm for hundreds or thousands of years before rising to the surface."
By law, possession doesn't equate to ownership of meteorites. In 1954, Ann Hodges was asleep on her living room couch in Sylacauga, Ala., when a softball-sized meteorite smashed through the roof, came through the second floor and struck her on the hip. Hodges survived the impact and was hospitalized, assuming the meteorite was hers. She was wrong. Hodges was renting the house and legal rights to the meteorite belonged to the property owner. (Hodges and the owner eventually settled out of court.)
"Lots of farmers have found meteorites on their land," says Mike Reynolds, professor of astronomy and physics at Florida State College in Jacksonville. "In the U.S., farmland has been one of the best places to recover meteorites." The Lilienthals sold their specimen to the University of Minnesota, but still keep their eyes open, hoping for another fragment. Meteorite values often translate to publicity, a proposition shunned by many producers who remain quiet about finds. "Today, we still look from the cab and wonder. We were just doing what all area farmers do in our area and got lucky," Bruce says.
"The probability for another farmer to find a meteorite is just as high as the Lilienthal find," Alexander adds. "Without question, a lot more meteorites are waiting to be found on farmland."
Have you ever found a meteorite on your land? Let us know in the comments.