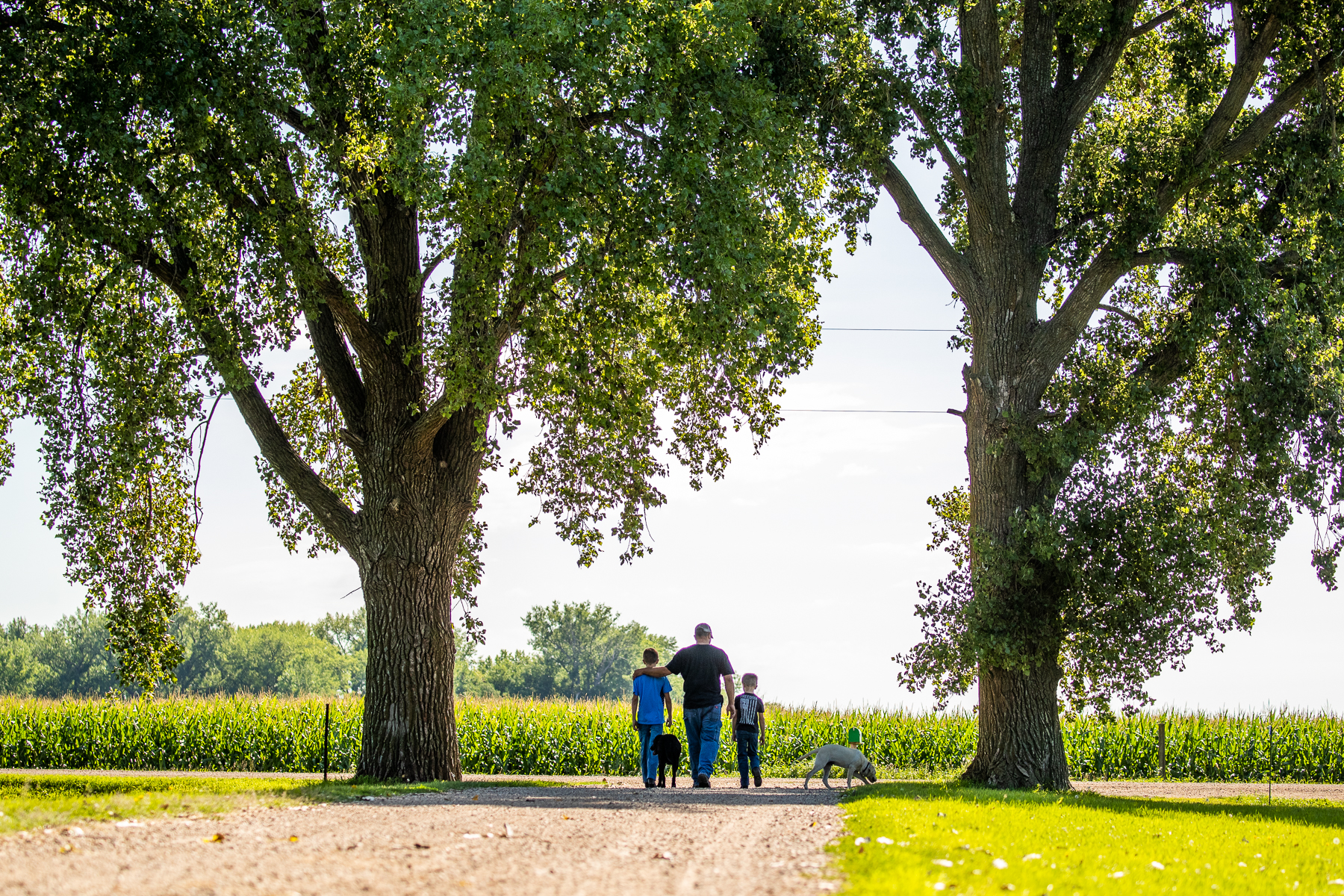 "You can't manage what you can't see, so knowing where you are and where you're headed is critical." 
That sage marketing advice is more important for farmers today than ever before. In the current challenging ag economy, having up-to-date marketing and risk management plans for crops and livestock is what allows farm operations to not only remain viable, but to succeed and grow. For many farmers, the key to developing and maintaining those essential marketing plans is having a good working relationship with a trusted marketing consultant.
The Herman, Minn., farm of Kevin, Steve and Neil Blume is a good example. Kevin runs point on grain marketing for the corn, soybean and sugarbeet operation, taking over the job from his father Neil eight years ago.
"I have a good knowledge of marketing basics, but it's something I never feel like I have enough time to master. That's one of the biggest reasons we use a marketing consultant and why my dad started working with Kent Beadle at CHS Hedging 20 years ago."
Beadle, director of producer brokerage for CHS Hedging and manager of AgSurionSM Risk Consulting, has 34 years of marketing and risk management experience with CHS. For the Blumes, he's a valued resource. "No one outside the family knows our operation as well as he does," says Neil.
The most important factor in choosing a marketing consultant is trust, says Kevin. "Kent knows us, our operation's history and our goals, and we trust him, which is huge."
Planning for the future 
The family's main goal in the current economic climate is to remain a viable operation. "My brother Steve and I each have three young sons and we'd like them to have the option of continuing to run this farm someday," says Kevin. 
To accomplish that, the Blumes regularly revisit marketing goals and strategies, updating the management plan they've crafted with Beadle's help. 
A team of experienced risk consultants, including Beadle, four other CHS Hedging staff members and 20 independent associates work under the AgSurion Risk Consulting banner. CHS Hedging acquired full ownership of the former Russell Consulting Group in 2018.
The name has changed, but the team of consultants continue to offer the same services, resources and commitment to their grower-customers, says Beadle. 
Typical services include:
    •  Farm visit and initial financial analysis of operation
    •  Assessing marketing capabilities, risk profiles and preferred marketing tools
    •  Creating a risk management plan
    •  Providing weekly crop/livestock updates covering futures, basis and spreads
    •  Regular contact to help execute recommendations
    •  Decision software to help with major purchases (land, equipment, grain bins)
"One of the first things we do with each client is to complete a detailed financial analysis of the operation to create a benchmark that we can compare future results against," says Beadle. "We also compare the operation's performance with the averages of our broader client group, to provide a bigger picture of how the operation is doing and to help identify areas for improvement." Most growers focus on commodity prices and dollars per bushel or per head and tend to overlook efficiency factors, he notes. "We try to shift the focus to understanding gross dollars per acre or head needed to cover all costs, including operator draw and desired profit. There is often more than one way to reach get to your objective.
Removing the emotion
Kevin says one of the biggest benefits of working with a trusted consultant has been to remove the emotion from grain marketing. "I am more confident in making marketing decisions because we have a strategy – when the price hits a certain level, we sell a percentage of our crop."
Marketing decisions are often hard, says Beadle. "Having a plan, along with up-to-date information and analysis, helps take emotion out of the process. That's what our service is all about."
Beadle has regular communications with his clients, based on their needs and preferences. "Some clients like to talk weekly, others not as often. Some prefer emails and others like to text."
"I talk with Kent almost every week – either I call him with a question or he calls me with an idea," says Kevin. "He has helped us do a better job of hedging, and we're pricing some of our crop farther out than we used to."
The Blumes view that type of customized consulting as an essential input, along with quality seed and maintaining adequate soil fertility. "The three of us aren't marketing experts," says Kevin. "History has shown we're much better off hiring the services of someone who is."
Learn more: Visit CHSHedging.com to learn how you can get customized farm marketing and financial advice from AgSurion Risk Consulting.  
Disclaimer:
This material has been prepared by a sales or trading employee of CHS Hedging, LLC, and should be considered a solicitation. There is a risk of loss when trading commodity futures and options.