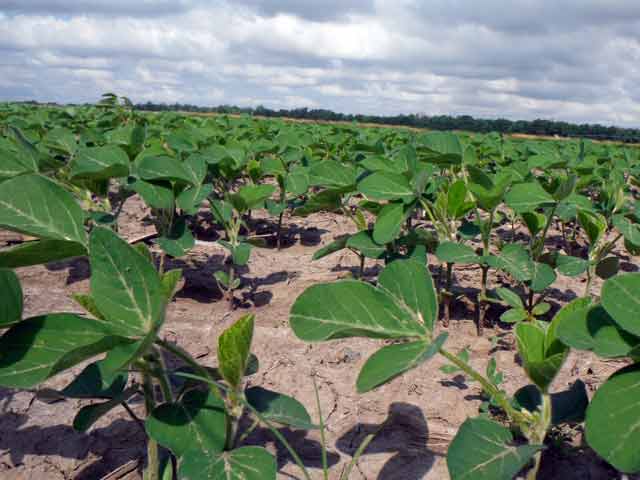 Just as weather forecasters watch the movements of El Niño for hints of what's to come, analysts are doing the same as they assess the commodity markets.
The connection makes sense. The weather pattern known as El Niño "historically brings timely rainfall to U.S. agriculture east of the Rockies," according to historical climatologist Evelyn Browning Garris.
Those rains also can contribute to big crops, pushing up supply and driving down prices across the grain and soybean markets.
But not all crops—or rather, the prices for those crops and agricultural products—react in the same way to El Niño, according to Christopher Narayanan, head of agricultural commodities research at Societe Generale in New York.  
For soybeans and soybean meal, the effect is quite bearish. (Prices for August soybean futures closed at $9.502 on Thursday.)
"Specifically, we noted that the soybean market has a pattern of lower prices in the first few months following the event," Narayanan wrote. "In addition, soybean meal prices are pulled down alongside soybean prices and follow an almost identical path over the 12 months after the shock. Soybean oil, on the other hand, takes a distinctly different path with prices rising for the first four months post-shock reaching a maximum 3% increase by month four, as Asian palm oil production is adversely affected and greater demand for soybean oil ensues."
He noted a "similar" effect for corn, both in corn production and the grain markets. "Corn yields are usually improved in an El Niño, and prices tend to drop for the first few months only to recover slightly, then drop dramatically into harvest and then eventually recovering seasonally," he said.
Other crop prices typically fare better.
"Wheat, a more global crop, sees support for the first three months as yields in eastern Australia are dramatically hurt due to drought conditions," Narayan said.
Cotton also typically gets a bounce. "Cotton prices respond positively within the first month, increasing roughly 1% immediately," he wrote. "… Dry weather in India, the world's second-largest cotton producer and exporter, helps explain the rise in cotton prices during an El Niño event."
That's good news for U.S. wheat and cotton producers, which have been coping with worldwide gluts of the grain and fiber.