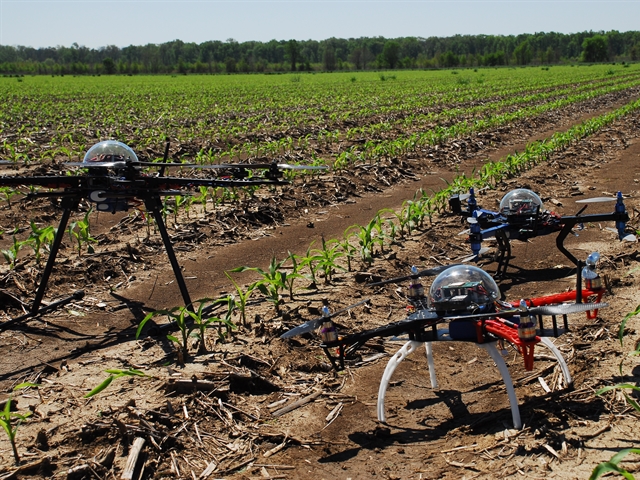 Now that more and more farmers are investing in drone technology on their operations, the ROI question is more relevant than ever. What constitutes a good deal when buying a drone? According to Malek Murison, who writes for dronelife.com, "It depends."
The most important step is to link purpose to price, he says. That means farmers getting behind the controls for the very first time may have different needs than the seasoned veteran interested in more commercial applications.
Murison divides potential buyers into three basic categories – "just starting out," "getting serious" and "professional." Here's his take on what each category reasonably costs.
Just starting out (under $200)
"As a beginner, your best bet is to look for something fairly cheap, bearing in mind there's a good chance one of your opening flights will end in a crash of some sort," Murison writes. "You might also decide that flying isn't for you, so it makes no sense to spend hundreds or thousands of dollars just yet."
Murison says there are two basic options at this price point. The first is a micro-drone that has similar control to higher-end models. The second is going to a bigger model that has more basic functions. Murison says these are only "tasters" of the real deal but still a good introduction to the technology.
Getting serious ($250 to $600)
Murison is encouraged by this category, which is a relatively crowded market where prices have gone down at the same time as performance has gone up.
"There's no better example of that than the DJI Phantom 3 Standard," he writes. "When it was released in 2015, this drone cost upwards of $1,000. Now, it can be bought for half that."
Professional ($700 or more)
Getting started in the drone industry isn't cheap, Murison admits. The good news? You get what you pay for, he says.
Paying more means (generally speaking) better flight range, multiple flight modes, features like obstacle avoidance and super-slick 4k stabilized cameras. DJI is a clear market leader at this point, Murison says, but there are multiple worthy alternatives on the market.
Click here for more details on what to look for in each spending category.