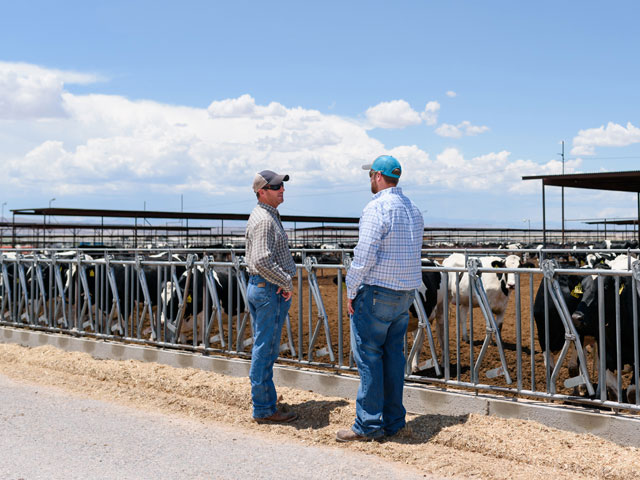 Located just 90 miles north of the U.S.-Mexico border, Las Uvas Valley Dairy near Hatch, N.M., has become a beacon for people seeking a better life.
The 10,500-cow dairy employs 160 people, many of whom have worked for two and three generations for the business established in 1979. The company employs no migrant labor. All of its employees have documentation to live and work in the U.S., and some have obtained citizenship in the U.S., as well. 
Applicants must pass a drug test and a background check. Other measures have been adopted to further ensure team excellence and bolster retention.
"We used to bring in food trucks until we had a guy selling alcohol out of the back of his truck," says Mitch Horton, who with his brother, Loren, is a managing partner. His mom, Frances, and dad, Dean, round out the ownership. "We're a big operation and we can't always keep eyes on everything, so we had to change the culture on the dairy."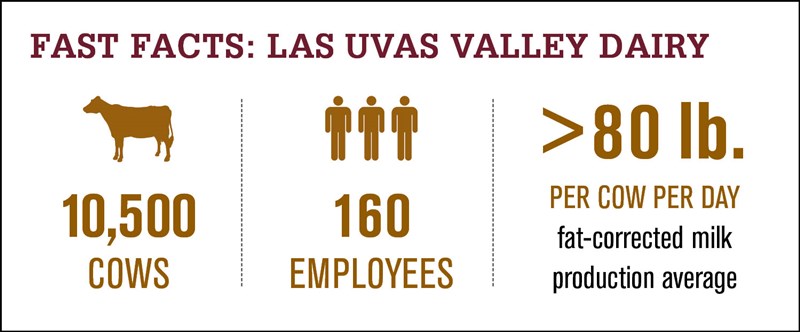 It has taken the family business two decades to get to this point. The decision to focus on human resources procedures stemmed from too many experiences with bad-apple employees and a turnover rate of up to 50%. The resulting changes have led the dairy to create an extensive strategy for keeping its employees, ensuring compliance with labor and immigration laws and building the framework for future growth.
HR Structure. The strategy is key to support a diversified operation spanning 7,000 drip-irrigated acres of forages including alfalfa, triticale, oats, winter wheat, sudangrass and corn, plus two ranches on which the team runs cattle when it is profitable.
Drug testing and background checks have been in use at Las Uvas for about 15 years. Drug testing on farms is increasingly popular, says Holly Courtney, associate attorney with Milwaukee, Wis.-based Michael Best & Friedrich.
"Employers choose to drug test for a variety of reasons, such as workplace safety and productivity," she says. "We recommend that employers who test for drugs have a written policy that should be reviewed for compliance with applicable law."
Making sure workers have accurate documentation is another way to protect against unwanted employees. The Hortons found that out when the federal Immigrations and Customs Enforcement (ICE) agency came knocking a few years ago.
"We had nothing to hide and we didn't do anything wrong," Mitch explains. "The 60 people we lost were either felons or they provided false documentation."
The dairy cooperated fully with the investigation, providing the paperwork and support agents needed to do their job. After the year-and-a-half investigation, no fines were levied. Now, all the documentation goes through Gracie Whitlock, who has been with the dairy—named after the surrounding valley, which abuts the Sierra de Las Uvas mountains where Spanish conquistadors planted grapes—for more than 30 years.
"Gracie knows the rules and how to keep the right records and do the background checks and keep everything in order," Frances says. 
Today, the culture at Las Uvas Valley Dairy is one that feels a lot like family. Members of a family can sometimes be hard on one another, but in the end, they still appreciate one another and remain part of a core group. Call it tough love.
"We have to be fair," Frances says. "If we respect ourselves and our business, we expect our employees to respect the business, just like we do."
Intentional Leadership. Despite the strict rules, the Hortons have established an environment that makes people want to stay. That environment is centered on two things: providing a consistent
management framework and implementing a system that enriches the lives of employees and their families.
As the dairy has pivoted from focusing on expansion to building efficiency, the Hortons have created a structure for employee growth.
Mitch drew on his own experience working for 10 years at Shamrock Foods and Dean Foods before dairying. He strengthened a flat management structure that split the dairy into 12 departments.
The division of leadership originates with his parents, who implemented the system years ago. Each business area has a department head that manages a small group of supervisors, who direct employees.
The shift of companies from hierarchical management to vertical management represents a revolutionary step, writes Steve Denning, a business consultant and contributor to Forbes magazine. It's a structure common to large dairies.
"In the 20th century, successful firms followed the precepts of hierarchical bureaucracy," Denning says. "They focused on making money, told employees what to do and controlled performance through rules, roles, plans and reports."
Then, globalization and the internet moved power away from sellers and into the hands of buyers. Companies had to be more creative and nimble to compete.
Hierarchical management couldn't keep up, and innovative companies such as Apple became pioneers, providing employees with the ability to collaborate across teams.
"When we have departments, each person has their own area but they help in others as well," Frances says. "They are all working together. They are equal across departments."
Leaders at the dairy are self-made, Mitch says. They must be self-
motivated and be committed to Las Uvas. "It's not necessarily that they have the skills you're looking for," he says. "It's what's inside. Are they quick on their feet? I could teach anyone to milk or breed or feed cattle. That's the easy part."
Robust Benefits. Each department head receives health insurance and paid vacation. When a department head position is available, or if one of the management areas gets split, Mitch looks internally. Each department head has direct access to the partners, but he adds that the company has an open-door policy. "There is a communication process through your supervisor or department head, but if you feel like you're not getting heard, you can always find us to talk," he says.
Back in the day when local onion and chili farms poached dairy employees, the Hortons realized they'd have to offer more than a competitive wage to keep employees. Those team members, after all, ensure a steady stream of milk leaves the farm. The milk is sold through their cooperative, Dairy Farmers of America, for use at a local cheese plant in Las Cruces. Their milk also goes to Dean Foods plants in El Paso and San Antonio in Texas.
They provide a yearly bonus on employee anniversaries. Team members are rewarded for every six months of perfect attendance, and there is a year-end drawing for TVs, gaming systems and other items for those with perfect records. A vehicle allowance offsets the use of personal vehicles since most employees live a considerable distance from the dairy. 
Mitch and the management team also offer specific solutions for a special set of employees. "We have a small group of employees that would come and go," Mitch says. "For this group, if you work a full year, you get your yearly bonus and can take off for as long as you want and when you're done you can come back." These employees are rehired with no strings attached. "It's worked well. They don't get all of the other benefits that others do, but we know exactly what they are going to do."
Health insurance is provided, above what is offered through the Affordable Care Act. The managers are also considering offering paid vacation when milk prices get better.
Generational Security. The family focus extends to team members' children. A scholarship program at the dairy is open to all employees with kids going to college.
At its peak, the Hortons provided scholarships to 10 students at once.
"We have a female employee that has worked here for 20 years," Frances says. "We helped put two of her kids through college. She's still milking cows but happy that she could send her kids to college."
It all comes down to providing a good work-life balance. "We understand the dairy is a small part of our employees' lives, and they have their own families they want to be with," Mitch says. "We want our employees to have quality time at home."
Going forward, the dairy will focus on incorporating robotics and improving herd genetics, Mitch says, to maximize resources and support a better life for their team.
"Are we perfect? No, but no family is," Mitch says. "We try to respect and understand one another."
Show your team you care
At their New Mexico dairy operation, the Hortons make company culture and leadership development top priorities for their team of 160 employees. Creating a focused, engaged and capably led workplace is one of the best things you can do for your bottom line, says Richard Hadden, a leadership consultant at Contented Cow Partners headquartered in Jacksonville, Fla.
"If you are saying your farm is a great place to work, you better give them more than a sign," Hadden says. "You have to show them the evidence. Your best recruiting tool is your reputation as an employer."
A smart way leaders can show compassion and interest in their teams is by asking pointed and caring questions. "Leaders need to ask the right questions, and then really listen," Hadden says.
Check in with your employees often by asking these meaningful questions provided by Hadden.
                1.            What is your name?
                2.            What are you really good at—both at work and also in your personal life?
                3.            What do you do for fun at work and outside of work? (Don't get too personal.)
                4.            What are you lousy at?
                5.            What would you like to do better at work?
                6.            What are a couple of your strongest passions?
                7.            How do you get to work each day? Do you drive or take some other form of transportation? Do you travel alone or with others? How long does it take?
                8.            Has there been some powerful life experience (good or bad) that impacts your approach to your work? (No need to go into detail, and if there isn't one, that's OK.)
                9.            Who and what is most important to you, outside of work? Be careful not to pry.
                10.          Is there something about you, or your life experience, that especially suits you to serve some need in your work?
                11.          What are you having trouble with at work that you could use someone's help with?