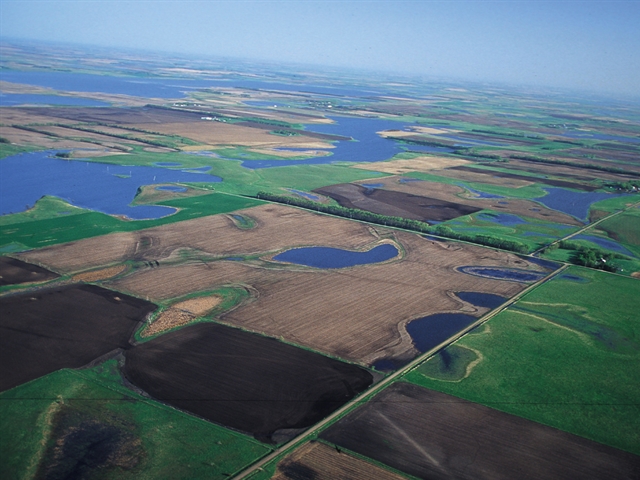 If you think sustainability is a term clever food companies use to sell products to shoppers at a higher mark-up, you need to do some homework. Sustainability is increasingly a driving force behind profitable farm businesses as they seek to serve consumers, food manufacturers and retailers demanding transparency around how producers treat their land, people and animals.
For example, 41% of people say sustainability has an impact on their food-and-beverage-buying habits, up 6 percentage points from a year earlier. That's according to an online survey conducted by the International Food Information Council Foundation, a nonprofit focused on science-based food policy and consumer education. It's true sustainability still ranks well below other criteria—convenience, healthfulness, price and, most of all, taste—but there's ample evidence the business case for sustainability will only grow.

"We approach sustainability as a value and growth proposition for a farm business," explains Emily Johannes, principal at K·Coe Isom. She works closely with producers, including young farmers, to measure and report their business performance and forge relationships with customers in the supply chain. "If you don't think about sustainability through a business value lens, then this subject is a bit of a barrier. Think of your sustainability report as your 'financial statement' to help explain and manage your farm's stewardship and social responsibility."
Momentum For Change. Already, major retailers such as Wal-Mart are drawing a line in the sand on sustainability, setting the stage for opportunities for young farmers. In mid-April, the Bentonville, Ark.-based retailer announced Project Gigaton, an initiative that seeks to cut carbon emissions by 1 gigaton—equal to 1 billion tons—across its value chain by 2030.
The retailer says a big part of the initiative will be driven by collaboration with suppliers and the farmers who grow and raise their ingredients to add cover crops to farmland and optimize fertilizer applications on 76 million acres by 2025.
"It's good for our business, and it's good for the environment," said Laura Phillips, senior vice president of sustainability for the company, speaking during Wal-Mart's Milestone Summit broadcast on YouTube.
The retailer has led other stakeholders to dig into the economic opportunities for sustainability in agriculture, says Suzy Friedman, director of agricultural sustainability for the nonprofit Environmental Defense Fund (EDF). Wal-Mart's 2010 announcement that it would cut greenhouse gas emissions by 20 million metric tons over five years led EDF to take on a leadership role in the commodity-crop supply chain.
"We don't see that as being done primarily through organic or local, which certainly have value but are too niche for impact at scale,"  Friedman says. "We think the foundation, the building blocks, the big things that make up our food system are where the opportunities are."
The organization has focused on water quality and climate outcomes because companies such as Wal-Mart seek to reduce their environmental footprint and ensure a steady supply of commodities at low prices regardless of unpredictable weather, Friedman says. So EDF has collaborated with businesses, ag retailers and farmers to assess sustainability metrics and set goals for scaling best practices.
First Steps. Once you understand your goals and outcomes , Johannes says, the next step is to measure your operation and document what you find. It can cost as little as a few thousand dollars to get started. She says most farmers already are doing between 40% and 70% of what retailers and food manufacturers expect, but they may not have quantified it or put the information in one place yet.
By documenting greenhouse gas emissions, water use, soil health, fertilizer applications, social responsibility and other factors, producers have a plan they can share with potential customers, landlords and consumers. As lenders look to better understand their long-term risk, they will take a harder look at sustainability metrics in the future, Johannes predicts. This is because they are beginning to view good environmental stewardship and social responsibility as a good investment.
"This is such a different position for our industry, but I think it's one our young producers will gravitate toward as they engage with value chain partners more," Johannes says. "In some limited cases, producers who can quantify their sustainability performance are seeing premiums. Price transparency and new market access models are revolutionizing our industry. But, in the current market we're facing, I think the questions farmers are really grappling with are: how can I gain opportunities to engage customers proactively, not where do I take my corn? Where do I grow or perhaps, sell my business? How do I sell what my farm business stands for?"
Information Gap. Access to information about sustainable farming practices has been lacking in the past, Friedman says. That has been a barrier to adoption for many operations, but it's an issue that is going away as major players such as Land O'Lakes invest in training for ag retailers who will provide farmers with science-based agronomic information on sustainability.
The investment isn't expected to stop there. Friedman points to another EDF partner, Smithfield Foods, which hasn't solely relied on the goodwill of farmers to adopt sustainability practices. This past fall, the business set a goal of a 25% absolute reduction in greenhouse gases along its supply chain by 2025. It then set to work investing in people and resources to help producers, Friedman says. For example:
It hired a full-time agronomist to provide free sustainability advice and assistance to farmers in its grain-sourcing region of North Carolina, Virginia and South Carolina.
It purchased new technologies built around measuring sustainability, such as optical sensors for input management, and loaned them to farmer-suppliers at no cost to try out.
It collaborated with producers on planting cover crops and conducting strip trials on nutrient-use efficiency.
It began working with Land O'Lakes SUSTAIN program for ag retailers to build its capacity of farmers using sustainable practices in the Midwest.
It is exploring infrastructure to cover manure lagoons on its farmer-suppliers' operations.
"These companies don't want to pay more per bushel for the product, but they are willing to invest in communication, infrastructure and training that will help them achieve their goal," Friedman says.
Genuine Connection. For young farmers, the years ahead will present an unprecedented opportunity to engage with U.S. consumers, she predicts.
"Food companies and the supply chain are speaking up, connecting down to their sourcing areas, developing more of a connection to farmers so they feel more a part of that overall food system," Friedman says, "as opposed to just a really important sector of our society, landscape and economy that otherwise gets completely disconnected from everyone else."