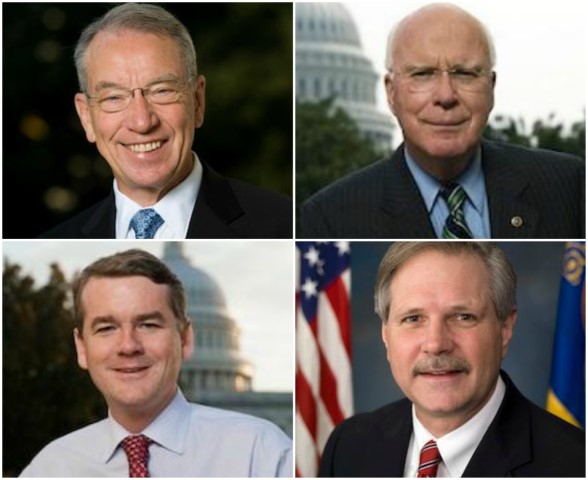 As dramatic as the 2016 election cycle has come to be, there's one area of politics that has been relatively drama-free. That's the prospect of losing current members of the Senate Ag Committee.
Of the 20-member committee, helmed by chairman Pat Roberts (R-Kan.) and ranking member Debbie Stabenow (D-Mich.), only four members are up for reelection this year. They include Patrick Leahy (D-Vt.), John Hoeven (R-N.D.), Michael Bennet (D-Colo.) and Charles Grassley (R-Iowa).
The thing is – none of these races are particularly tight. According to political prognosticator FiveThirtyEight, each of the four Senate races that could affect the makeup of the ag committee features heavily favored incumbents. FiveThirtyEight predicts a 99.6% chance that Hoeven will be reelected, for example.
As for the other races, Grassley has a 98.1% chance to win, Bennet has a 95.3% chance to win and Leahy has a 99.8% chance of winning. Those thirsty for "election drama" in the Senate will need to turn to more hotly contested races in other states, such as Missouri, where Democratic candidate Jason Kander is currently edging out incumbent Republican Roy Blunt with a 56.5% chance of victory.
But even if the four Senate Ag Committee members have their own individual races locked up, changes could still be coming. That's because according to FiveThirtyEight, Democrats have a 65.6% chance to regain control of the U.S. Senate. If that happens, some changes to the Senate Ag Committee will still occur.

Specifically, the chairman is always selected from the majority party, and the ranking member is the most senior member of the minority party. Also, the majority party ensures it has a majority on every committee. Currently, there are 11 Republicans and 9 Democrats on the Senate Ag Committee.
For AgWeb's ongoing 2016 election coverage, visit http://bit.ly/2f1dJmN.