The number of farming-dependent counties in America fell "moderately" during the past decade, according to a recent USDA-ERS report.
ERS divides rural counties into one of several areas – nonspecialized, Federal/State government dependent, farming depending, mining dependent, manufacturing dependent or recreation. Each tends to have a regional stronghold, according to ERS sociologist Timothy Parker.
"Farming-dependent counties are concentrated in the Great Plains, manufacturing-dependent counties are found more often in the Rust Belt and Southern Piedmont, while Federal-State Government-dependent counties are clustered in the West," he notes.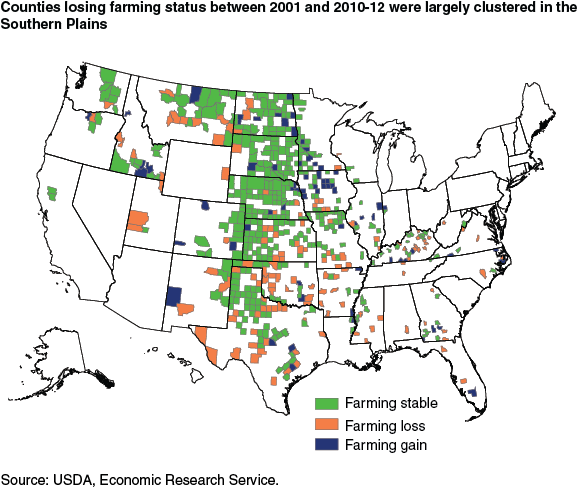 These "county economic typology codes" debuted in 1986 and are updated about once per decade. Baker notes some changes since 2004, the last time the codes were updated.
Farm-dependent counties fell from 511 to 444, a decline of 13%. Baker suggests multiple factors are at play, including farm consolidations and increased productivity and labor-saving technology across fewer farms.
"Nationally, the number of farm jobs fell by 14.1% between 2001 and 2013," he says. "During the same period, total farm earnings increased 63.4% (in real terms), according to data from the Bureau of Economic Analysis. Farming dependence has become more concentrated in Midwestern counties, while farm dependence has dropped more sharply elsewhere."
Other rural industries saw various degrees of losses or gains. The number of manufacturing-dependent rural counties fell 40% since 2001, for instance. Meantime, mining-dependent rural counties logged big gains over the same period, with a 60% increase – thanks to the uptick in popularity of fracking and horizontal drilling methods.
For more agricultural statistics, visit www.ers.usda.gov/.