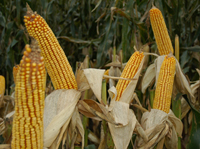 University of Illinois ag economist Gary Schnitkey has been tracking net incomes for farmers. They're tracking low in 2015, and to avoid a repeat in 2016, it's a simple-enough equation – one of two things has to happen, he says.
"Commodity prices must increase, or costs must decrease," he says. "At this point, counting on price increases seems imprudent. As a result, substantial cost cuts will need to occur to have positive incomes in 2016."
Specifically, Schnitkey looked at how farmers could trim $100 per acre for their 2016 budgets. If farmers in his state could accomplish this, he says $100 per acre cuts could net $19 per acre of net farmer income. He admits this is not an easy prospect.
"Obviously, large cuts in costs will be difficult," he says. "However, profitability in 2016 likely depends on making these cost cuts."
Where cost cuts ultimately occur is an open-ended question, Schnitkey says. But if cuts are possible in the following areas, he suggests pursuing them. Here's an example, looking at central Illinois farmland with lower productivity.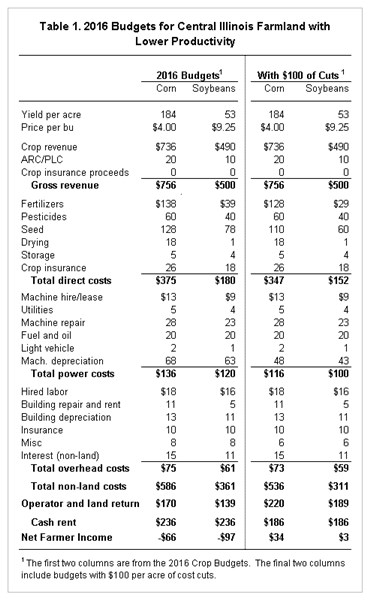 A few highlights:
Cut cash rent by $50 per acre. Using Central Illinois farmland with lower productivity as an example, that would bring the average cash rent from $236 to $186 per acre, Schnitkey says.
Cut miscellaneous expenses from $8 per acre to $6 per acre. This indicates a "general emphasis on cost control," according to Schnitkey.
Reduce machinery depreciation to $20 per acre. "Reducing depreciation requires that capital purchases are very low," Schnitkey says. "The $20 reduction assumes that capital expenditures are near $0 per acre."
Reduce fertilizer costs by $10 per acre. Costs could be reduced through lower rates, although Schnitkey is hopeful that some price reductions in fertilizer costs are possible.
Reduce seed costs by $18 per acre. "How this cost reduction occurs is not exactly certain," Schnitkey admits. "Seeding rates may need to be lowered, and hybrids with lower technology may need to be purchased. Perhaps some price relief will exist for 2016 hybrids."
Schnitkey notes that fertilizers, seed and machinery depreciation accounted for 71% of all cost increases between 2006 and 2013.
"These three costs plus pesticide costs account for 67% of non-land costs for corn and 61% for soybeans," he says. "Costs in these four areas must occur if sizable reductions in non-land costs are to occur."
For more budget analysis (including for soybean), visit http://farmdocdaily.illinois.edu/2015/08/cost-cutting-for-2016-budgeting-for-corn-soybeans.html.