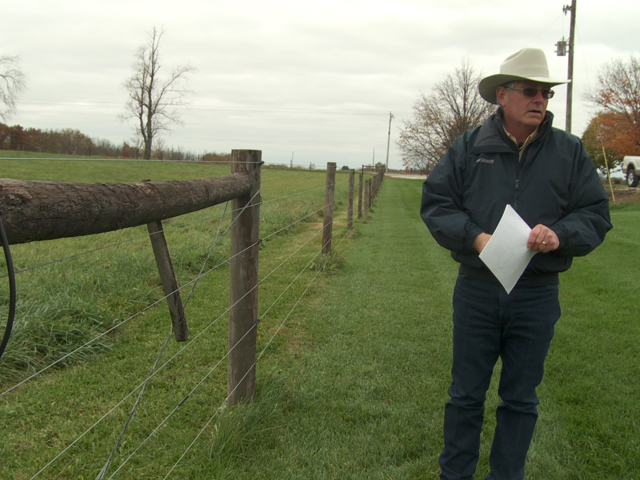 Any cow-calf producer will tell you, maintaining a durable livestock fence can be difficult, especially one on a budget. But one Purdue University Beef Specialist shares his tips on how to construct his ideal fence with a shelf-life.
Dr. Ron Lemenager is known as 'the beef guy,' and fencing happens to be his specialty.
Watch the story here:
"This is my mental release. We spend nights and weekends doing this stuff," said Purdue University Beef Specialist, Dr. Ron Lemenager.
So when it comes to building a perimeter fence for your livestock, he encourages using six high-tension wires.
"I like the idea of starting with a ground wire and alternating between hot and cold," said Lemenager.
He says six isn't too many when liability is at stake.
"The grass and weeds that will grow will wet and sap electricity off the system," said Lemenager.
Lemenager says producers need to start thinking about the high-tension wire. It will last about thirty years, while regular soft wire lasts about five.
"It's going to cost me about $2.25 per foot of wire, where a woven wire with a barb on top, I'm going to have a $1.80 a foot and I have the barb on top of that," said Lemenager.
For his perimeter, he drives in all wooden posts. They last longer than steel. But for a subdivision fence, he goes a little more economical.
When you're building a high-tension fence, maybe the most expensive part is the post. So it's reasonable to put 30 feet centers on your posts. For a subdivision fence, he uses fiberglass posts.
"Those fiberglass posts with a clip is going to cost me $2.20," said Lemenager.
When it comes to a subdivision fence, a single hot wire can be done, but Lemenager encourages more.
If I'm running two of them, I put one at the bottom of my knee and one at the bottom of my belt. That's about 18 and 34 inches," said Lemenager.
He puts in posts every 35 to 40 feet, depending on how much pressure is in the area. When he starts changing elevation, he needs a post that will stay in the ground.
"I have fiberglass posts but when I go from a hill to a valley to a hill, then I put wooden posts," said Lemenager.
Lemenager says if you want to build a perimeter fence in stages, you can start with three high-tension wires and put the ground wires in between them later. He encourages using high-tension wire for even subdivision fences but a barbwire fence can be ideal for sheep and goats.