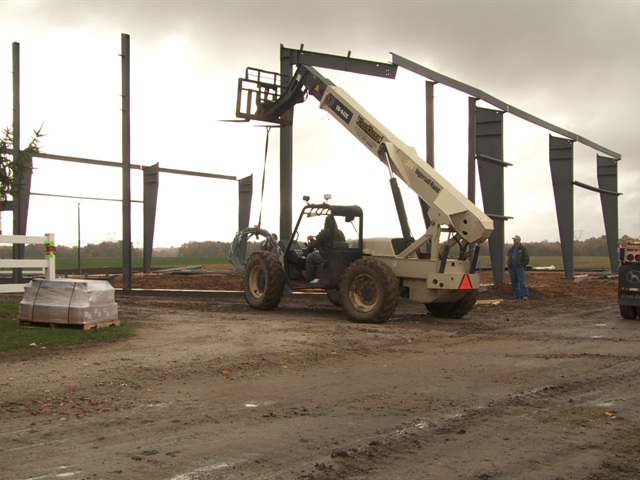 Building a workshop that's right for your farm can take a lot of prep work and planning. One farmer shares his building process with us and what's he's learning as he builds his first shop before the cold sets in.
For Jason Wykoff, it's finally happening. His vision of building a shop is now a reality.
"The last couple of years we have been in a shop down the road. It makes it difficult when we thought we had a tool or something, we were hopping back and forth," said New Carlisle, Ind., farmer Jason Wykoff.
But before the construction crews could start moving, Wykoff had to do years of planning.
"We went around and looked at guy's shops and then just kind of made a list of everything we wanted and narrowed it down for what they want and can afford," said Wykoff.
His budget started with how much ground we had to fill. To save costs, he dug 3,000 yards of his own sand. That's something he did right after tasseling
"When we got to end this building, we had about 12 feet to get the pad up to get in the level. Other sites aren't level, so you will have to build that building up or put in some tile or drainage," said Wykoff.
His next step was an easy one: understanding his drainage system.
"On this site, water flows away on building stand-point. We needed to fill because it was unlevel," said Wykoff.
When it comes to building permits, he warns other it did take several weeks because he had to get a variance to put in an office and septic.
"We started late but once we got started, we were able to get the permit process, but sometimes that can take longer than what guys can anticipate," said Wykoff.
Then he could finally get started building his 80-by-120-foot workshop.
"It's going to be a regular shop with steel construction, concrete shop, heated shop, eventually put in offices as well," said Wykoff.
Watch the story:
Wykoff said he picked standard door sizes to fit all of this equipment in. He considered by-fold doors on hydro-swing doors but it wasn't in his budget. Wykoff says he's still learning, especially when it comes to the inside of his shop, but he says contractors gave him this advice.
"Try to do as good as a job as you can planning so there's not a lot of change order so we went into it and made a long list of what we wanted so when the building process came, we weren't adding things," said Wykoff.
Whether it's your first shop or your last, it's always exciting to see the foundation go in.
"Guys like working in their shops. It's just natural. It's part of our DNA as farmers," said Wykoff.
Wykoff has a two-month timeline for his shop. If everything goes as planned, the inside of his shop will be complete with a service station, offices and heated floors.