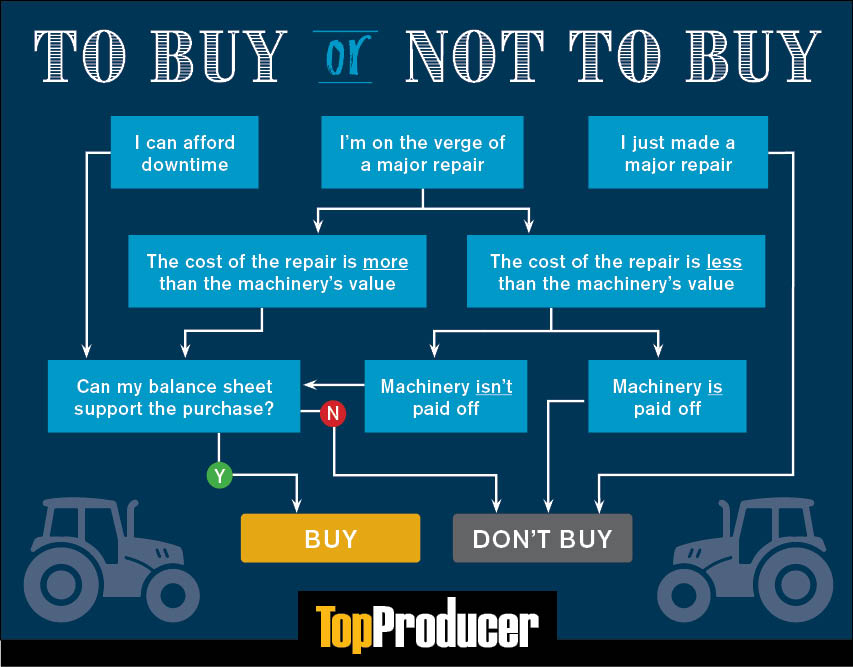 During times of economic strain, it can be difficult to know you're making the right decisions when it comes to machinery expenses. How do you know if it's the right choice to purchase a new piece of equipment or continue to repair an old one?
The first step is knowing your needs, says Casey Seymour, vice president of sales at 21st Century Equipment and host of the Moving Iron podcast. Can you afford downtime? "If you're running five combines and one goes down, that's a different situation than if you're running two combines and lose one," he says. "Some people can't afford downtime. Others enjoy maintaining older equipment."
Next, assess where your machine is at in terms of longevity. A good tracking system on equipment is critical to see how annual maintenance costs are stacking up, says Peter Ovrebo, product performance specialist with AGCO. Those costs are one of the best indicators of the longevity of the machine.
"It's indicative of farming equipment that wear will inevitably occur," he says. "Knowing what you've put into the machine over the past few years will give you a baseline of where it's at when you're looking at making the decision."
For example, if a machine is 10 years old and in the past decade all you've done is routine maintenance and haven't had any major overhaul, it's more than likely you'll soon face a major repair, Ovrebo says.
"Whether that's a transmission, gearbox or engine overhaul, something of major importance is going to occur," he says. "So, it might be a good time to look at buying a new piece of equipment."
However, if you have a 10-year-old machine you recently overhauled, it's probably better to hold onto the equipment and benefit from your investment. "If you're trading in to a dealer, that recent overhaul probably isn't going to pay back otherwise," Ovrebo says.
Similarly, Seymour says, it's important to evaluate how the cost of major repairs interacts with the value of the machine.
"Say you have an $80,000, combine and then you're going to spend $40,000 to fix it up. Is that the right thing to do? Depends on if you owe money on it. If you fix that thing up for $40,000 and it's worth $80,000, it's still worth $80,000 after you fix it up," he explains.
Cash Considerations. If you decide purchasing a machine is the right thing to do, consider your balance sheet strength.
"It all goes back to what the balance sheet says," Seymour says. "How will it affect your cash flow? If you're going to get a brand-new combine, you're going to have an $80,000 payment."
However, that combine will also be worth more. Weigh your cash flow needs and repair costs with the machine's value to make a final decision, Seymour says.