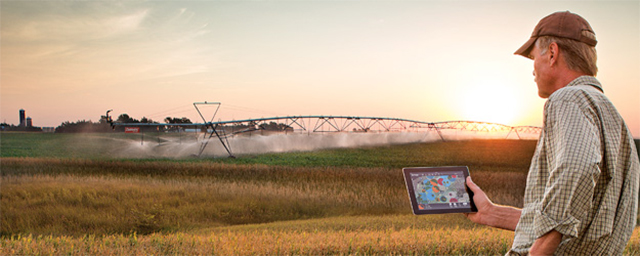 Smart growers are realizing the benefits of remote technology
In conversations with growers, dealers, agronomists and irrigation specialists, they consistently mention remote control as a beneficial tool that makes their lives easier and saves time. Much like the switch from having to use a land-based phone line to now having the ability to use a cellular phone from virtually anywhere, the ability to manage your irrigation equipment even when you are away from your fields or farm is a game-changer.
FieldNET® by Lindsay is the industry's leading remote irrigation management tool with integrated water, fertilizer and chemigation solutions – it will save water, energy, time and money for your operation, regardless of what brand of irrigation equipment you own.
What can you remotely manage with FieldNET?
Monitor and control pivots, laterals and end guns. Just a few of the functions you can perform from your smartphone or laptop are: start/stop/change equipment direction, adjust irrigation rates, set automatic stop position, and more. Plus, you'll always stay informed with text message alerts and status updates.
Create custom plans, operate and control valves, flush cycles, chemical and fertilizer injection, and frost protection.
Quickly and accurately make plans based on crop variability (e.g., multiple crops, hybrids, or planting dates), soil variability, field conditions or weather. Choose from 360-sector Basic VRI or Growsmart® by Lindsay's Precision VRI with virtually unlimited, flexible applications. 
Get full access to pressure, run status, flow, temperature level, power, and variable frequency drives (VFD) for higher efficiency, as well as, reduced wear and tear. In some cases, you may save up to 75% of the labor and fuel it takes to physically check operations.
Enhance management and decision-making with a variety of sensors including magnetic flow meters, soil moisture sensors, weather stations, and more.
Increase your insight
With FieldNET, you can monitor and control the operational status of your equipment in real-time (see where your pivots or laterals are currently at in the field, know and control whether your end gun is on, etc.) and be alerted immediately when the operating status changes (know when a system shuts down or if someone makes a change to the application depth as soon as it happens).
Ready to add remote capabilities?
FieldNET Pivot Control is an option for existing pivots and is compatible with almost any brand of pivot.
This product features full remote control of pivots, pumps and injectors, along with basic VRI and GPS positioning. And unlike other remote control products that mount at the end of the pivot, Pivot Control is installed at the pivot point to provide more features and greater flexibility.
Visit MyFieldNET.com for more information or locate your nearest Zimmatic dealer.
FieldNET is available as a subscription – see your local Zimmatic dealer for details.
To receive regular news and updates about FieldNET and Zimmatic, sign up for the Irrigation Advances e-newsletter.