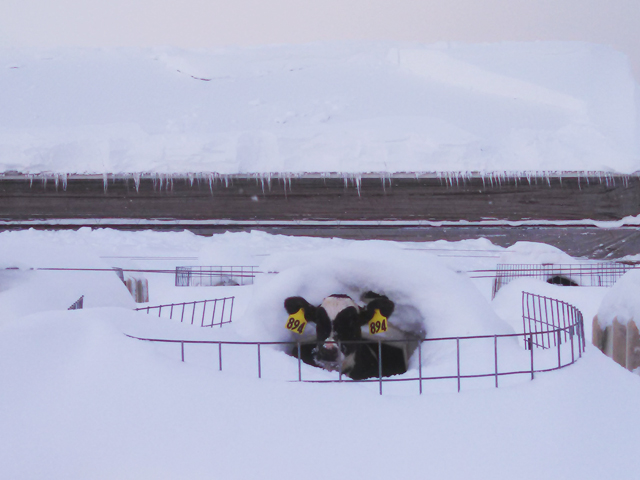 The heavy snows in and around Buffalo, N.Y., earlier in November were a stark reminder of winter weather's damage potential. Snow and ice can cause car accidents and school closures, and as NBC News reported, enough snow can even cause structural damages that put roofs in danger of collapsing.
The Insurance Institute for Business & Home Safety (IBHS) recently offered up ways farmers and others can reduce property damage risks when inclement winter weather strikes. The first step is simply staying alert, explains IBHS president and CEO, Julie Rochman.
"With this early onset of severe weather, please take the time to understand the various winter weather alerts and stay tuned to the National Weather Service alerts," she says. "Also, we encourage residents and business owners to take steps now and use IBHS' recommendations to protect your home or business today and to be prepared because it could be a very long winter season."
Know how much snowpack building roofs can accumulate before they are at risk of collapse. For example, most residential roofs should be able to support 20 lbs. of snow per square foot of roof space before they become stressed. For fresh snow, that means 4' of snow can accumulate before a roof is stressed. That number cuts in half for packed snow, however – and 1" of ice equals a whole foot of fresh snow.
IBHS also provides pointers on preventing frozen pipes, a costly source of winter property damage. IBHS research reveals a burst pipe can easily cause $5,000 or more in water damage. IBHS offers up the following best management practices:
Provide a reliable back-up power source to ensure continuous power to each farm building.
Insulate all attic penetrations.
Ensure proper seals on doors and windows.
Seal all wall cracks and penetrations.
Install insulation and/or heat trace tape with a reliable power source on various wet sprinkler system piping.
Place a monitored automatic excess flow switch on the main incoming domestic water line. This will provide early detection of a broken pipe or valve when the space is unoccupied.
IBHS recommends installing weather stripping and seals on all vulnerable areas of any heated farm building. That includes windows and doors, vents and fans, plumbing, air conditioners, electrical and gas lines, and mail chutes.
For additional advice on winter preparation, read Southern States Cooperative's checklist for "winterizing the small farm." And the Integrated Plant Protection Center has helpful advice on winter inspection checklists, proper storage of equipment, safe pesticide storage during winter months and more.
Got a winter weather story that's too good to keep to yourself? Share your stories with us in Crop Comments or the AgWeb discussion forums.