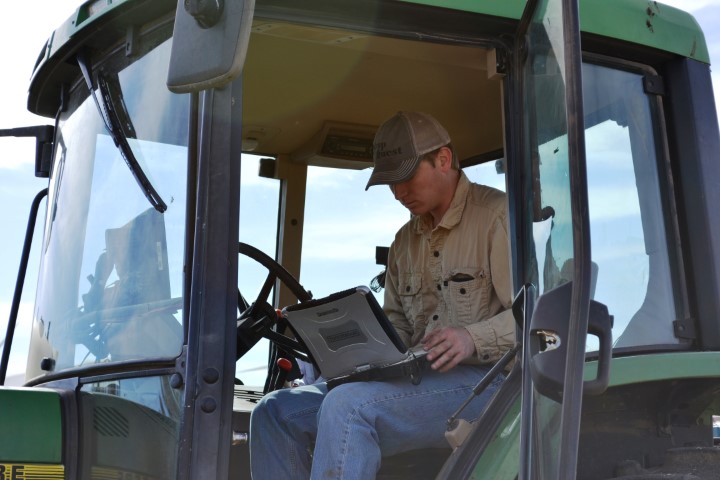 Modern farmers have the opportunity to swim in a sea of data they have collected on their tractors, combines and drones—and ride the waves to higher yields. But no more than a few have gotten their feet wet.
Information overload is to blame, says Robert Morris, CEO of TerrAvion, an ag-data collection service.
"The biggest challenge right now is integrating all of these tools on the farm," he says. "There's a real feeling of drowning in data. When your information is in three or four different places, it's hard to assemble. That feeling is almost worse than not collecting the data in the first place."
Collecting data is an important first step, says Steve Cubbage, president and owner of precision-ag consultancy Record Harvest.
The farmer who sits idle on gathered production data gains no advantages from it, he adds.
For example, farmers might spot in-field variability but not set up a variable rate fertility prescription. "Those are lost opportunities," he says.
But back to that real concern of drowning in data. Is there a relatively easy area where a farmer can get started and become familiar and confident with the technology?
Morris suggests taking a step back and asking "What's the biggest problem I want to solve?" That will help sharpen a farmer's focus, he says.
It's worth noting the agtech tools are getting much easier to use, says John Jansen, vice president, North America commercial lead with The Climate Corporation. A decade ago, data analysis required a thumb drive, a desktop computer and likely some special GIS software training. Today? Most of the process happens on the go, on a smartphone or tablet computer.
"Farmers want this stuff on an iPhone or iPad," he says. "They want to consume information on the go."
The more data a farmer can collect, the richer it becomes, Jansen notes. And though the popular sentiment is it takes three or four years of data before a farmer can make truly smart variable rate seeding or fertility decisions on a given field, instant insights are still possible for those just getting started, he says. The key is getting that data from 1s and 0s to useful images. Seeing really is believing, he says.
"Visualizing your data and getting it into a form where you can start working with it is the best first step," Jansen says. "It's helpful even with just one year of data."
Some agtech companies are assisting with the heavy lifting. The Climate Corporation, FarmLogs and others amplify farmer data by adding in layers of public information, such as weather and soil data, rainfall and growing degree days.
Some technology even makes farming decisions outright. For example, IntelliFarms has a system that takes live measurements from grain bins and automatically runs fans or heaters when certain conditions are met.
"This takes the user decision out of the equation," says Todd Sears, IntelliFarms president. "The technology is there to put the data to work for the farmer, rather than just compiling it and waiting for the farmer to analyze."
Often, farm data collection and analysis services offer free and premium versions of their products, adds Shep Whitcomb, product marketing manager with FarmLogs.
"Take advantage of trying the free version," he advises. "There's a tremendous amount delivered in it, and it will help build your confidence."
Treat data collection analysis as a continual investment, Cubbage adds. Don't throw out data even if it's from a bad year. "You can't be hot and cold with data collection," he says. "You have to be in it for the long haul."
How Sharp is Your AgTech IQ?
Answer the question below and enter to win free admission to the first Farm Journal AgTech Expo.
Yield monitors are important tools, but they require a lot of work to set up, operate and maintain in order to get all the value they offer, says Steve Cubbage, agtech consultant. Many farmers aren't aware of all the ways their monitors can make them money. Are you?
Name at least five different, specific ways your yield monitor can make you money. (One is by producing a yield map.)
Email: [email protected]
Mail: AgTech Quiz, Farm Journal, P.O. Box 958, Mexico, MO 65265
Submissions will be entered into a drawing for free admission to the first Farm Journal AgTech Expo, Dec. 12–13, 2017, in Indianapolis.