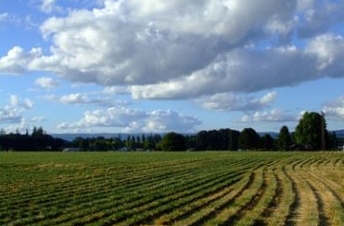 For the first time in almost five years, grain producers are dealing with tightening or negative profit margins. One of their biggest challenges is figuring out ways to reduce the overall cost of production. The tendency is to go after areas such as seed, fertilizer or herbicides. Although inputs might have room for cost savings, be sure not to sacrifice yield potential. Rather, focus on reducing your largest line item expenses. 

Equipment and land are the largest individual expenses. In previous columns, we've discussed opportunities with equipment; therefore, we'll now focus on land rental rates. Many of you might have cash rent prices established for 2015, but there's no deadline for communicating facts to your landlord when managing your business.

To establish a fair cash rent, consider several factors. First, recognize both you and the land owner have a unique perspective on what cash rent level is appropriate. Unfortunately, neither party probably remembers which variables led to the current cash rent rate. Components factoring into a rate include yield potential, soil fertility, land location, commodity prices, state-specific university averages and competitive farm values.
Prepare for new rental-rate discussions by documenting this information. A lack of details leads to decisions based on personal perspectives instead of reality.  
Assemble Your Numbers. To assess the rental rate of a farm, list data for the past five years in a spreadsheet, broken down by a reports summary and a profit-and-loss summary. Underneath the reports summary, data points should include local university averages, land-owner cash rental rate, income per acre, average crop price and average crop yield per acre. 

For the profit-and-loss summary, data points should include insurance, crop and government incomes, total expenses, total income, gross profit, gross profit per acre and combined return on investment. You can see 
a sample rental rate assessment chart by going to http://topproducer-online.com  and viewing the online 
version of my column. 

By putting together actual numbers, you'll have a better understanding of the appropriate price. Look at each farm's profitability individually rather than averaging them together. 

Next, create a chart to visually illustrate trends over the period reflected in your spreadsheet. The chart on this page, for example, shows a hypothetical farmer's cash rent averages as compared to rent averages provided by a state university. It's important to include the average selling price during the same timeframe. There is normally a direct correlation to commodity prices and rental prices. If cash rent responds to commodity prices on the uptrend, it is much easier to determine the appropriate rental price in a downtrend. 
Real Talking Points. Explain to your landlord that you realize each of you has a unique perspective. One option in discussing rental rates would be to negotiate based on personal feelings; alternatively, you have assembled information to create transparent and factual spreadsheets and charts. Armed with data, you and your landlord can make the best mutual decision about future rental rates based on reality instead of perspective.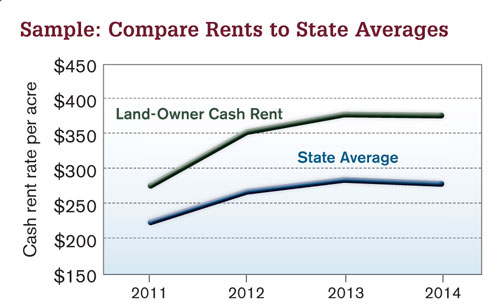 When negotiating rent, note selling prices. In this example, corn hit $4.46 in 2013, then $3.80 in 2014.