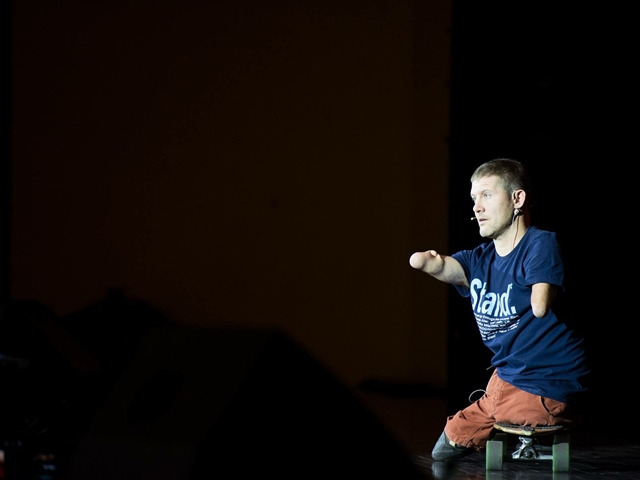 Farmers across the country could use a little encouragement given the valley many are walking through. Who better to do that than someone who has overcome adversity and maintains a positive attitude? Say hello to Chris Koch.
Koch was born into a farming family in Nanton, Alberta. Much a surprise to his family, Chris was born without arms and legs. Nevertheless, he learned to adapt farm work to suit his needs and spent his childhood working on his family's farm.
(Register for the 2018 Top Producer Seminar!)
"My family could have treated my disability like a total tragedy but instead chose to take it all in stride and make the best of the situation," he says. "After all, I still had a good head on my shoulders … and with that, anything is possible."
Koch says he grew up with the normal experiences of most small town kids. Hey played hockey and baseball with kids his age, and he operated equipment on his grandpa's farm whenever he could.
"Life was pretty normal," he says. "Sure, I had to do things a little differently and maybe took a little bit longer to complete tasks. But I was determined to be just like the rest, and I was always treated just like the rest."
Koch has spent his adult life encouraging and advocating for wounded veterans and other amputees. These days, he travels the country sharing his story of strength and endurance. Koch will give a keynote address over lunch on Thursday, January 25, at the 2018 Top Producer Seminar at the Hilton Chicago Hotel Downtown. Don't miss an opportunity change the way you think about your own daily struggles – register today.
Thanks to our 2018 Top Producer Seminar Sponsors:
Premier Level: Agrium (ESN), BASF, Bayer, John Deere, KCOE ISOM Supporting Level: BMO Harris