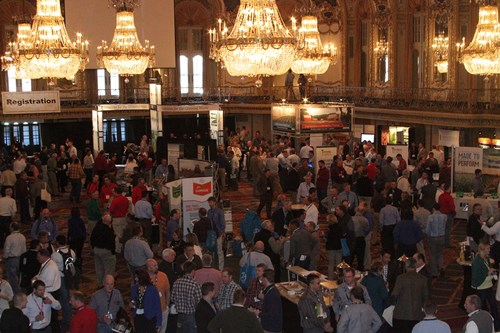 Turbulent times and tough marketing challenges have left farmers asking a lot of questions. Jeanne Bernick, editor of Top Producer magazine, says that's what makes the 2015 Top Producer Seminar (TPS)one of the most valuable events they can attend next year.
"There is comfort in numbers, and more than a few aha moments have been shared at these events in times of crisis and prosperity," she says.
Top Producer editors compiled recaps for many of last year's presentations. Here is a small sampling of what attendees absorbed at the 2014 TPS:
Tighter Margins, True, but Ag's Future Remains Bright
Grain and oilseed prices have taken their lumps in recent months, particularly corn, but for producers well positioned with strong working capital, the future is a bright one. Use these eight strategies to help you prosper during the rocky road ahead.
How to Make an Extra $100 per Acre
For farmers facing lower revenues for their 2014 crop, the new Farm bill may actually provide more revenue than the old farm bill. Farm CPA Paul Neiffer explains the tax implications of the new farm bill, and how you could benefit.
Three Ways to Communicate Better with Landlords
Dave Nelson of Nelson Family Farms in Fort Dodge, Iowa, explains how producers can improve communication and expand networks.

Top Priority for 2014: Protect the Balance Sheet 
The No. 1 job for crop producers in 2014 is to protect their capital positions created from an unprecedented run of near-record prices. Employing price protection strategies can help safeguard your profit margin against sharp drops in prices.
The Must-Dos for Human Resource Success
Tough times seem to be looming for the farm industry. During these times, Laura Cornille-Cannady, a farm business consultant who specializes in human resources, says you must maximize your assets, which include your cash, land, equipment and people. Use these tips to make sure you are fully maximizing their talent and your operation's results.
The Upside of Low Prices
With grain prices, market expert Jerry Gulke says he doesn't know for sure where prices are going, but he does know where they are not going – back up to record highs. But, he also doesn't think they are headed too much further south, either.
The next TPS takes place Jan. 21-23, 2015, at the Hilton Chicago. The theme is: How to Chart a Course for Profits. Highlights will include:
Learning how $3 corn will impact the farm economy
Valuable insights on the latest farm bill regulations
Tax tips for 2015
Tips on building a succession plan
Crop insurance strategies
Getting the most value out of farm equipment
Drones, robots and other cool new on-farm technology
Interesting innovative panelists including ESPN analysts and Howard Buffet
And much more
For more information, or to register, go to http://bit.ly/tps15.