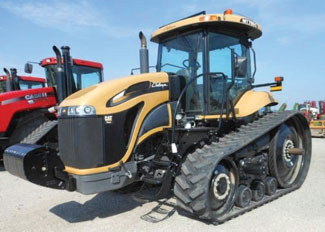 Opportunity might be knocking to add horsepower and technology
I'm a huge believer in the theory of opposites: When the pack is running one direction, go against the grain. 

This past year, as values fell on large, late-model used farm equipment and lower commodity prices brought the bears out of hibernation, many crop farmers backed off on equipment purchases. While that's a natural move, opportunity is knocking.

Machinery Pete auction data shows a 15% to 25% decline in values for large, late-model equipment from August through October 2014. Knock, knock. 

On Sept. 17, in the midst of the slump, we shot a nice farm auction in northwest Illinois for "Machinery Pete TV." At the auction, a 2008 John Deere 608C 8-row chopping corn head in good condition sold for $30,000. The average auction price in 2014 was $34,699 and in 2012, $42,905. 

After the sale, a young farmer came up to talk to me about his corn head purchase. He had been monitoring prices, knew they were dropping and seized the good buy. I was encouraged by the young farmer acting against the grain. 

A week earlier, on Sept. 10, a 2010 Challenger MT765C tractor with 2,012 hours sold for $134,000 at a consignment auction in southeast Iowa, while a 2009 model with a few more hours brought $136,000 via an online auction in northwest Minnesota. For comparison, on April 3, 2013, a similar 2010 model in good condition with 1,986 hours sold for $152,500 at a consignment auction in northeast North Dakota.

The current dip in values on large, late-model used equipment might make it feasible for you to upgrade horsepower, capacity or technology for your operation.