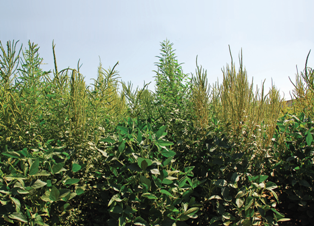 True or false: if you have a resistant weed problem it will be easy to detect. If you answered false, you are correct. Weed resistance starts small, just one or two escapes and grows quickly. Soon, you and your neighbors won't be able to drive past your field without seeing major escapes.
"[Many] don't see it until it becomes a problem," says Mike Owen, Iowa State University Extension weed scientist.
By the time you and your neighbors see weeds while driving down the road it is likely too late to start to gain control, much less get ahead of the problem. It all starts with prevention.
Owen suggests using a community-based weed management system. This holds farmers accountable to a team of other farmers, extension scientists and agricultural leaders providing them with tools and education.
"Basically it would have to be up to the leaders of the communities," Owen says. Local agricultural leaders would put together a coalition of farmers and set goals for the community to ward off weed resistance, focusing on a single weed and growing as needed.
Weed management is harder now than it has been over the past two decades. "The problem is the success we have had with herbicides has led us down a primrose lane," Owen says. Farmers will need to integrate many different chemical, mechanical and cultural practices to get a handle on this situation.
If you're looking for the silver bullet, it won't be there, says Owen. There are no truly new herbicides coming down the pipeline. By new, he means there are no new herbicide groups, or sites of action. Group 27 HPPD inhibitors were the most recent discovery, about 30 years ago.
The ideal approach, Owen explains, is decreasing reliance on herbicides and making it a more even split between mechanical, cultural and chemical control methods.
"Most populations are in transition from primarily sensitive to resistant," Owen says.
While fields are in transition it is essential to gain control of weeds to ward off resistant and eventual take over in your fields. Through education and well defined goals and standards, the community based weed management system could help slow their growth.
"If they maintain the passion it'll make a difference," Owen adds. "Remember, if you've got a problem, I've got a problem."