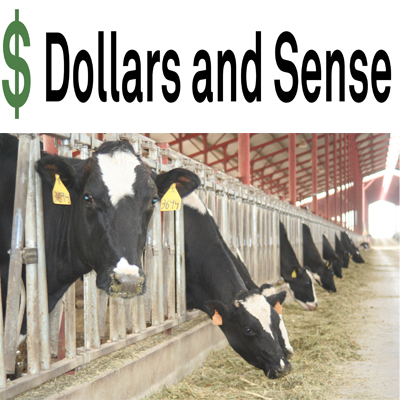 Julie Maurer
Newton, Wis.
Family owned and operated, Soaring Eagle Dairy milks 1,100 cows and grows the majority of the herd's feed on 1,800 acres.
---
The topic of risk management certainly isn't my favorite. It's nearly impossible to be right all the time, and I think anyone who's been wrong can appreciate my aversion to the topic.

Coming off a year of record-high milk prices, it's not hard to guess which side of the market we ended up on.  With that said, I fear what 2015 will bring, and this would certainly not be the time to abandon ship. We work with a broker who has a managed program, thereby reducing the feeling that their recommendation is made to earn a commission. Our toolbox contains futures, fences and options.
Additionally, the broker provides recommendations on feed purchases and crop sales. This year we did rather well on our soybeans, selling $2.46 per bu. above the market, which supports the concept of having a plan and sticking to it. In addition to our broker, I take the recommendations of some of our suppliers into consideration when making feed purchases as well. By growing all of our forage and a good deal of our grain needs, we feel that we are somewhat hedged against high feed prices. 
Another area we've "hedged" ourselves against is rising land prices.  Over the past 15 years, land prices in our area have increased four-fold. Over that time, we've picked up some nice parcels that are 10–15 miles from the farm at decent prices. A good deal of this land is on the outskirts of a nearby city, which should result in good appreciation in value over time. On this ground we will grow primarily grains rather than forages to minimize transportation costs. Also having ground spread out over a larger area allows us to better manage cropping tasks since not all the ground is ready at the same time or subject to an overly wet or overly dry year.
In a recent conversation with a non-farm person, he indicated, "I don't understand how you farmers do it." He went on to point out that we have a perishable product on which you have no control over price. There are weather risks, it's a dangerous industry and land costs are skyrocketing. It would seem one has to have a real passion to take the risks we do or be a little crazy – or maybe it's a bit of both!
Maurer's recent prices
Milk
$26.29 (3.46 bf, 2.98 prt)
Cull cows
$85-$95/cwt.
Springing heifers
$2,350/head
Alfalfa hay (milk cow)
$250/ton
Ground corn
$165/ton
Soybean meal
$389/ton