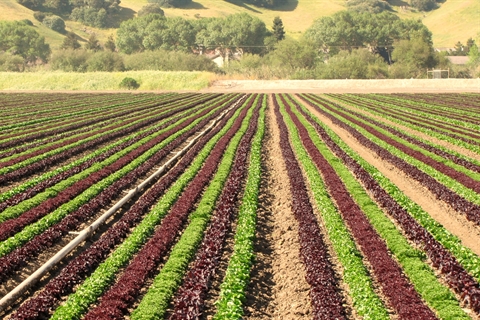 Salinas Valley, Calif., is one of the nation's agricultural hotbeds, sometimes dubbed "The Salad Bowl of the World." But thanks to its proximity to Silicon Valley, it is quickly becoming known for something else entirely – high-tech, futuristic farming.
Already, tech-geek terms like "youth coding" and "accelerator programs" are batted around regularly. And they're just getting started. Next July, the region will play host to the "Forbes Reinventing America: The AgTech Summit."
"This summit is a fantastic opportunity for the AgTech community to discuss real solutions in accelerating new technologies and capabilities in farming," says Bruce Taylor, Chairman and CEO of Taylor Farms.
The move is due in big part to the Steinbeck Innovation Center, a public-private partnership that is connecting Salinas Valley to Silicon Valley to create high-tech jobs and smart farms. John Hartnett, CEO and founder of Silicon Valley Global (SVG) Partners, says the group is using a fairly straightforward approach to jumpstarting technology.
First and foremost is the 501(c)3 foundation, which starts young children on the path to STEM careers, thanks to partnerships with institutions like the University of California-Davis, Arizona State University and others.
"We hope to create a long-term path to encourage kids in the region and create opportunities to get them into technology at an early age," he says.
The other two prongs involve an accelerator program to jumpstart new ag-tech startups, as well as other fundraising efforts.
"The idea is to focus on precision ag," Hartnett says. "Invest and deploy."
Some of the areas of interest include anything from sensors and driverless tractors, to new "field to fork" initiatives with a high-tech twist. In the end, many of the technologies rally around the theme of connection.
"The whole machine-to-machine movement could make a massive difference in the world of agriculture," he says.
Just two hours south of Salinas in Coalinga, Calif., a secondary high-tech farming effort is underway. A group called AgTech Roundtable is putting together a "hackathon" and calling for participants to join.
Think of a hackathon as a sort of high-tech brainstorm. Developers will focus on water management apps, devices and systems integration. They will be granted access to one of the world's largest and largely untapped mega-warehouses of data sets, the U.S. Department of Agriculture's (USDA) water records.
Date, time and other details are TBD. Visit http://www.techwire.net/ag-tech-hackathon-california-coming-soon/ for details.
For a deeper glimpse into the future of farming, visit farmofthefuture.net. Or, visit the AgWeb technology discussion forums for the latest talk about technology.