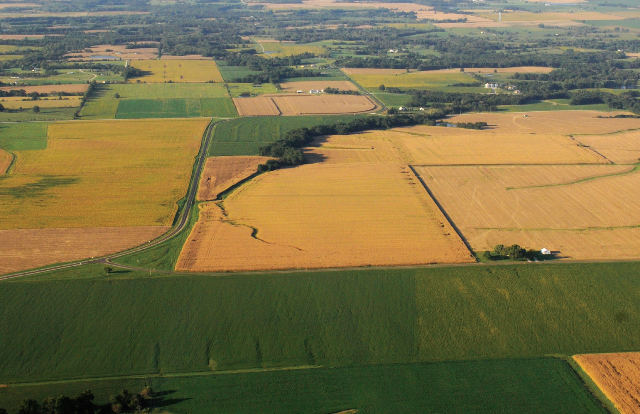 Profits, family and new technology will drive growth
Farms will continue their march toward the upper perimeter in size during the next 30 years. Is there no limit to economies of scale? In a word, no, but with a few caveats.

The desire to bring new family members into the operation, new technology allowing more acres to be farmed with less equipment and the new capacities discovered for computer technology will all play a role in creating larger farms.

"Growth happens," says Gary Schnitkey, a University of Illinois ag economist. As farmers earn profits, they expand. Always have, always will.
---
"Eventually, the average Illinois farm could be closer to 10,000 acres."
---
"Today's average Illinois commercial crop farm is about 1,500 acres," Schnitkey says. "In 10 years, I expect that to be 2,500 acres. Eventually, the average Illinois farm could be closer to 10,000 acres."

The number of acres that can be efficiently farmed per person keeps increasing as equipment size increases; however, that places a real premium on farmers' ability to ramp up management of technology and people.

"If you have 3,000 acres, you are too big for one combine but not big enough to fully utilize two," Schnitkey says. "We have 12-row combines and now they're manufacturing 16-row combines." There's no end in sight to development of new technologies that will allow farmers to more efficiently farm added acreage.

As a farm operation grows, Dale Nordquist, a University of Minnesota ag economist, points out some hurdles, such as employee management, that must be jumped. Farmers with the desire and ability to manage large numbers of employees will likely grow their operations to much larger sizes than those who prefer to do most of the farm work themselves, he says.
No Boundaries. Growth in future decades will not be limited by proximity. An increasing number of producers will operate in different states and countries. "That's happening already," says Danny Klinefelter, Texas A&M ag economist. Part of this trend will be crunching numbers to determine locations where it's cost effective to expand, and it might be 1,000 miles away.

There will be other drivers, too, Klinefelter says. Some end users will want to source local ingredients from quality farmers, with whom they already have relationships. Some grain operations might locate new farms closer to ports to take advantage of price incentives.

While Klinefelter sees continued growth, he also sees a time when end users could limit themselves to a group of qualified producer-suppliers. Another potential limiting factor to farm size growth, he adds, could be access to capital as farms get larger.

"Some farmers might need to pursue alternative arrangements from capital markets," he says, adding that at some point dis-economies of scale could be created when multiple layers of management are required.

While farm growth is a trend that has been in existence since humans stopped being hunters-gatherers, massive growth is not everywhere. Data from the Southern Minnesota Farm Management Association show that from 2002 to 2011, the average farm's number of cropland acres increased scarcely, from 1,006 to 1,047 acres. "I'm a little surprised at this," Nordquist notes. "The general direction is towards larger farms."

Michael Langemeier, a Purdue University ag economist, says in the future, motivating farmers with less than $500,000 in earnings to increase in size will hinge on two factors: labor costs in relationship to income, which is typically reduced for larger operations, and lower machinery costs per acre for bigger farms.

Another factor to consider is the number of producers who are nearing retirement and will exit the business in future years. "This will create an opportunity to grow," Langemeier says.

In the near term, there could be one more boost to farm size. "A large number of crop farms have high liquidity," Langemeier says. "This gives them the cash to expand, as evidenced by the escalating land values."